Wins for Germany, Norway & France on Day 5 at Hockey World Championships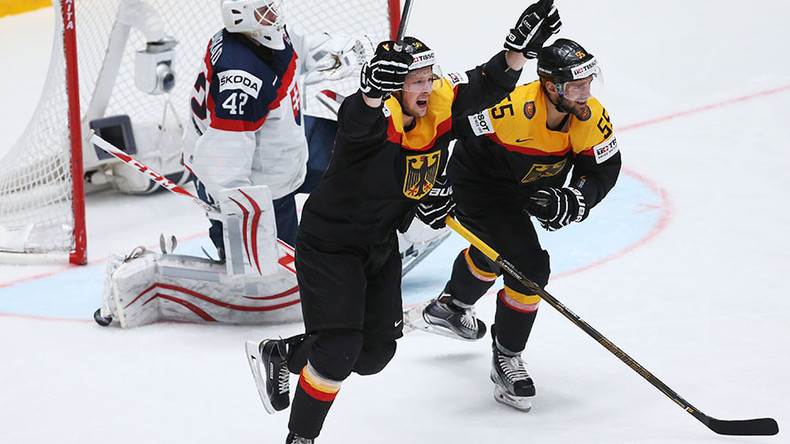 With Russia taking a break from the Hockey World Championships action on Tuesday, European sides Germany, Norway, Switzerland and France all recorded victories.
It was the fifth day of games in Moscow and St. Petersburg, and followed the competition hosts recording a morale-boosting 4-0 win over Latvia on Monday.
READ MORE: Russia & Canada record big wins on day 4 of Hockey World Championships
In Russia's Group A, Switzerland overcame an initial 2-0 deficit to beat Denmark 3-2 and record their first victory of the campaign.
The Swiss side found themselves 2-0 down after the first period but rallied to send the game into overtime, where an Eric Blum strike decided the clash in their favor.
In the other Group A clash later in the day and also played at the VTB Ice Palace, Norway was too strong for Kazakhstan, winning 4-2.
The game was tied 1-1 after the first period, but the Scandinavians outscored their opponents by one goal in each of the other two periods to register their first victory in regulation time for the tournament.
Kazakhstan will be frustrated given that they began the competition with a win over Switzerland, thanks to an incredible strike from Roman Savchenko, but went on to lose their last two games.
In Group B, Germany recorded an upset victory over Slovakia, putting their European rivals to the sword 5-1.
The Slovaks were a dark horse after winning their first two games of the tournament, but were well and truly second best here.
Zdeno Ciger's men scored the opening goal and took a 1-0 lead into the first break, but it was all one-way traffic after that, with Germany netting five unanswered goals.
In the final game of the day at Yubileiny, France kept themselves in the mix with a dominant 6-2 win over Hungary.
Dave Henderson's men came out the stronger and held a 3-1 lead after the first period, which the Hungarians could not fight back from.
Sacha Treille scored a hat-trick for the victorious team, while Damien Fleury also found the back of the net.
Wednesday's action will see four clashes, but Russia and competition favorites Canada will still sit out and watch from the stands.
Day six sees Switzerland and Latvia battle in Group A, along with a clash between Sweden and Kazakhstan.
In Group B, Slovakia take on Belarus while Finland will look to record their fourth straight win in game against Hungary.
Russia returns to the ice on Thursday, taking on Denmark at the VTB Ice Palace.