Russia & Canada record big wins on day 4 of Hockey World Championships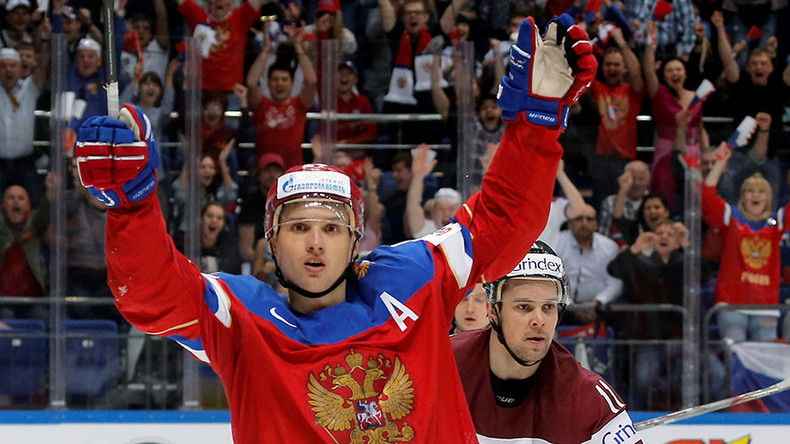 Russia made it back-to-back wins on day four of the Hockey World Championships, beating Latvia 4-0 to get their campaign firmly back on track.
The competition hosts suffered a disappointing defeat to the Czech Republic in their opening game, but quickly made amends by beating Kazakhstan.
READ MORE: Russia beats Kazakhstan 6-4 on Hockey World Championships Day 3
There were nerves on show in the early exchanges of Russia's clash with Latvia, with the first period ending in stalemate.
However, when Artemiy Panarin opened the scoring for Oleg Znarok's squad in the second period, Russia didn't look back and finished the game with four unanswered strikes.
Evgeny Dadonov, Vadim Shipachyov and a second strike from Panarin confirmed victory for the hosts, who moved up to second place in Group A.
In the other game in Group A, the Czech Republic made it three wins from three games with a 4-2 victory over Sweden at St. Petersburg Ice Palace.
Vladimir Vujtek's men showed their resolve as they trailed 2-0 after the first period, but four strikes in reply ensured the Czechs perfect record stood intact.
In Group B, Canada flexed their muscles against a hapless Belarus, winning 8-0 in a one-sided affair.
One of the tournament favorites, Canada were 1-0 to the good after the first period and a dominant second period, in which four goals were scored, confirmed victory.
The big win means the North American side has scored 20 goals in their three games to date, by far the most of any team. They have conceded only twice.
In the last game of Monday's action, Finland beat the United States 3-2 to keep pace with the Canadians, with both sides winning all of their three games so far.
The Finns found themselves two goals to the good after 12 minutes, with the United States unable to find a way to win.
US coach John Hynes remained positive despite the fact that his side has now been beaten in two of their first three games.
"I thought it was a very competitive game," he said.
"Unfortunately for us we were one goal short, but we really liked the intensity level that we played with, and I feel like we really took a step in our team game."
Four matches will keep Tuesday's action interesting, with Switzerland and Denmark starting the clashes in Group A. Kazakhstan and Norway will also play each other in Russia's pool.
In Group B, Slovakia takes on Germany, while Hungary and France are also set to face off on the ice.