NFL Draft 2016: Goff & Wentz top 2, social media hack hits Tunsil's hopes
Published time: 29 Apr, 2016 11:04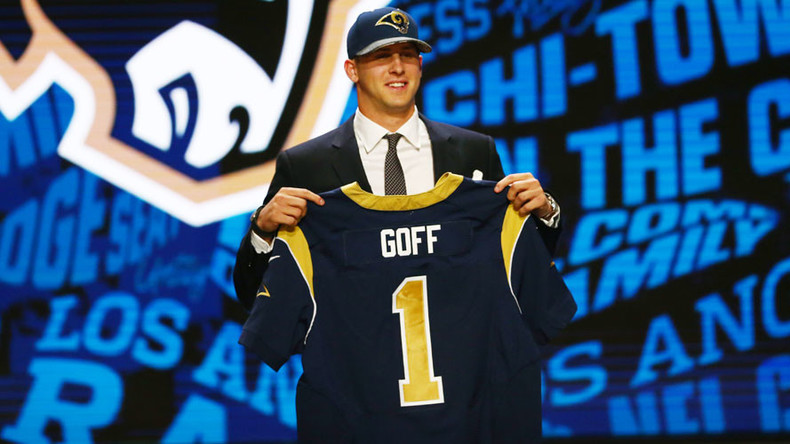 Promising quarterback Jared Goff was selected as the first pick in the 2016 NFL Draft by the new Los Angeles Rams franchise on Thursday.
The Rams had traded multiple picks to the Tennessee Titans ahead of the draft to secure the first selection and were fully expected to make either Goff or Carson Wentz their first choice.
Commissioner Roger Goodell duly announced California product Goff as the top pick of the first round in Chicago.
"Just truly a dream come true," Goff said. "I'm taking it as an honor and I'm going to have to prove them right, that they made the right decision.
"If you're a first-round quarterback, there's going to be pressure regardless. I'm very excited, very ready to go, ready for the challenge."
The Philadelphia Eagles had also traded up to secure the second pick, with North Dakota State's qaurterback Wentz becoming their obvious choice.
"I'm happy to be an Eagle," said Wentz. "I'm bringing it. They're getting a passionate player. I'm pumped to be an Eagle and ready to go to work."
While Goff and Wentz were predictable choices, the rest of the first round was consumed by one spectacularly bizarre event.
The San Diego Chargers passed on Laremy Tunsil, selecting defensive lineman Joey Bosa instead, after a questionable video appeared on the Ole Miss player's Twitter account just minutes before the draft began.
It showed Tunsil in a gas mask smoking something, just before he removed the mask to reveal his face.
The Tweet was soon removed and Tunsil deleted his account, but the damage was done as the offensive tackle slipped to 13th in the draft – much lower than expected.
After being selected by Miami Dolphins Tunsil said: "Man, it was a mistake. It happened years ago. Someone had my Twitter account and that's how it got on there.
"Things happen for a reason. I'm glad to be in Miami and I'm going to work my butt off."
Tunsil's woes didn't end there, with his Instagram seemingly hacked.
Two screen shot images of a text message conversation between Tunsil and an assistant athletic director were posted, talking about needing money so his mother's electricity bill could be paid.
Clearly flustered, Tunsil appeared to admit during his news conference that he took money from a coach at Ole Miss. The line of questioning was quickly shut down and Tunsil was ushered off the stage.
Tunsil had been expected to be the top pick, but the events on social media certainly had an impact on his position, with the Baltimore Ravens admitting they saw the video and decided not to pick him.
Earlier this week, Tunsil was sued by his stepfather and it's thought he may have been behind the postings. When questioned, Tunsil said he didn't know why his stepfather denied he had anything to do with the social media hacks.
The top five of the draft was rounded off by running back Ezekiel Elliott and cornerback Jalen Ramsey, selected by the Dallas Cowboys and the Jacksonville Jaguars respectively.
First round selections
1.01 Los Angeles Rams: QB Jared Goff
1.02 Philadelphia Eagles: QB Carson Wentz
1.03 San Diego: DL Joey Bosa
1.04 Dallas: RB Ezekiel Elliott
1.05 Jacksonville: DB Jalen Ramsey
1.06 Baltimore: OT Ronnie Stanley
1.07 San Francisco: DE DeForest Buckner
1.08 Tennessee (via trade): OT Jack Conklin
1.09 Chicago (via trade): OLB Leonard Floyd
1.10 New York Giants: DB Eli Apple
1.11 Tampa Bay: DB Vernon Hargreaves
1.12 New Orleans: DT Sheldon Rankins
1.13 Miami: OT Laremy Tunsil
1.14 Oakland: DB Karl Joseph
1.15 Cleveland (via trade): WR Corey Coleman
1.16 Detroit: OT Taylor Decker
1.17 Atlanta: DB Keanu Neal
1.18 Indianapolis: C Ryan Kelly
1.19 Buffalo: DE Shaq Lawson
1.20 New York Jets: LB Darron Lee
1.21 Houston (via trade): WR Will Fuller
1.22 Washington: WR Josh Doctson
1.23 Minnesota: WR Laquon Treadwell
1.24 Cincinnati: DB William Jackson III
1.25 Pittsburgh: DB Artie Burns
1.26 Denver (via trade): QB Paxton Lynch;
1.27 Green Bay: DT Kenny Clark
1.28 San Francisco (via trade): OG Joshua Garnett
1.29 Arizona: DT Robert Nkemdiche
1.30 Carolina: DE Vernon Butler
1.31 Seattle (via trade): OT Germain Ifedi