'Gay slur' Andrew Shaw suspended, fined & ordered to undergo sensitivity training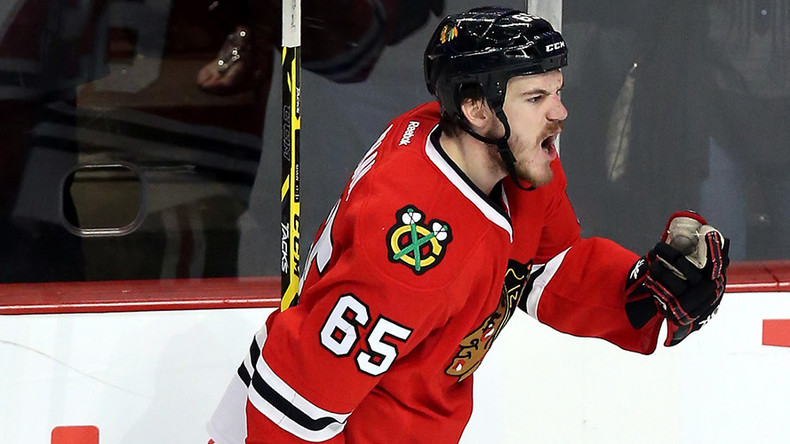 Chicago Blackhawks winger Andrew Shaw has been suspended and fined by the National Hockey League after aiming homophobic language towards an official.
The forward will sit out one game after using a gay slur in his side's game 4 playoff clash with the St. Louis Blues and has been fined $5,000 for an inappropriate gesture.
Shaw will also be forced to undergo sensitivity training to ensure a similar incident does not happen in the future.
The 24-year-old had a penalty given against him and was sent to the penalty box, before shouting an expletive towards the officials.
Colin Campbell, NHL senior executive vice president of hockey operations, condemned the Blackhawks player's actions.
"While Mr. Shaw was apologetic and remorseful for both the offensive comments and the inappropriate gesture directed at the on-ice officials, he must be held accountable for his actions," Campbell said.
"The emotion of the moment cannot and will not be a mitigating factor for the conduct that is expected of an NHL player."
Shaw has been quick to apologize for the language he used and has claimed the incident was out of character for him.
"I am sincerely sorry for the insensitive remarks that I made last night while in the penalty box," he said.
"When I got home and saw the video, it was evident that what I did was wrong, no matter the circumstances.
"I apologize to many people, including the gay and lesbian community, the Chicago Blackhawks organization, Blackhawks fans and anyone else I may have offended. I know my words were hurtful and I will learn from my mistake."
Inclusive organization You Can Play, which stands up for the rights of LGBT athletes, coaches and fans, also released a statement criticizing Shaw's actions.
"All of us at You Can Play were saddened and offended to see Andrew Shaw's use of homophobic slurs during an NHL game," the statement said.
"We wholeheartedly support the NHL's decision to discipline Mr. Shaw.
"After four years of working with You Can Play, NHL players can no longer use ignorance as an excuse for not understanding the power of their words and the effect they have on their teammates, fans and the LGBT community."
The Blackhawks also said they were disappointed with the player's actions.
Shaw is set to be a free agent this summer, with his chances of a move to another team compromised by his questionable discipline and behavior.