Thumbs-up from Infantino: FIFA boss praises World Cup preparations on 1st visit to Russia (VIDEO)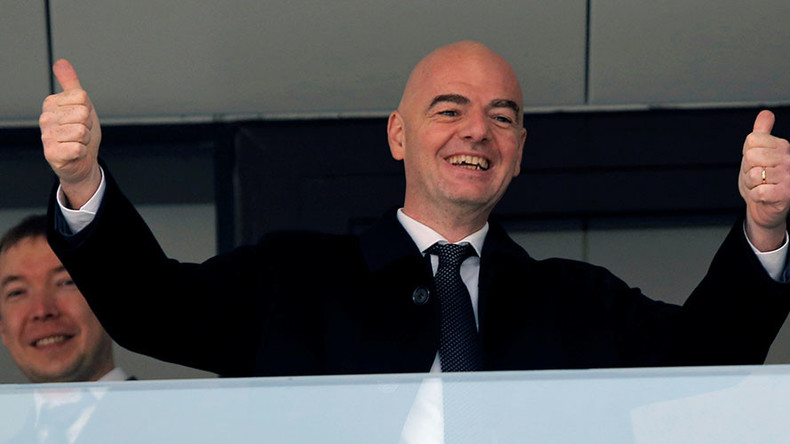 Gianni Infantino is making his first visit to Russia since being elected head of FIFA. He began his trip to the 2018 World Cup host nation with a tour of Moscow's Luzhniki stadium – the venue for the opening game and tournament final.
Infantino visited the 81,000-seat stadium with Moscow Mayor Sergey Sobyanin to assess progress in renovating the iconic Soviet-era venue. The stadium is undergoing a major rebuild before it hosts the opening game and the final of the 2018 FIFA World Cup.
The FIFA boss seemed impressed, and gave a double thumbs-up gesture.
Infantino praised the construction work on the historic stadium, which has hosted the 1980 Olympics and 2008 Champions League final, among other major sporting events.
"You can feel the heart beating when you enter the stadium," he said.
"It [the stadium] will be great for the players, for the fans… Moscow is a great city and it will be ready to host the world in two years' time.
"The stadium here is different compared to when I came here last time… Inside you really feel the atmosphere of football," he added.
The 46-year-old Swiss also signed a worker's hard hat with the word 'Congrats!' in recognition of the progress being made at the stadium.
Infantino's two-day trip will also take in meetings with members of the Local Organising Committee (LOC) and the Russian Football Union (RFU), the FIFA website reported.
The 2018 World Cup in Russia will be held at 12 venues in 11 cities including Moscow, St. Petersburg, Kazan and Sochi.
After Russia, Infantino will head to World Cup 2022 host nation Qatar for a two-day visit to check on preparations for the tournament there.
READ MORE: Russia will host best World Cup ever - FIFA president
Infantino was elected FIFA president in February after the resignation of disgraced former head Sepp Blatter, who was forced to leave the organization in June 2015 amid corruption allegations.