Russia will host best World Cup ever - FIFA president
Published time: 19 Mar, 2016 13:53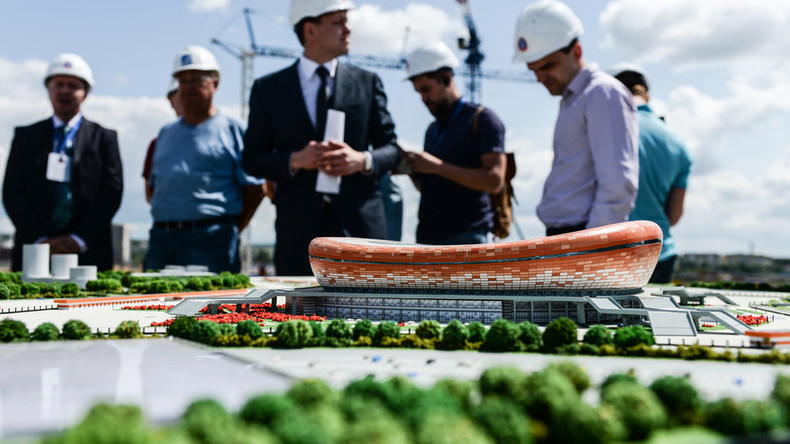 Russia is on its way to host the "best" World Cup ever, as the nation spearheads massive preparations ahead of the 2018 tournament, the newly-elected FIFA president said, adding that he is very satisfied with the preparations.
"I am sure that in Russia we will organize together with our Russian friends the best World Cup ever," Gianni Infantino told TASS in Zurich.
"The only thing I am worried about the World Cup in Russia is if I will be able to learn Russian [by] the World Cup," Infantino said. "It is something I would like [to do], but I am not sure if I will manage."
"The only thing I can say now is 'Ya govoryu po Russki'[I speak Russian], but that is about it," he added, brushing any problems with the preparations aside telling reporters that a few things must be "fine-tuned" before the tournament begin.
"From what I hear, from what I have seen until now, from discussions we had with the [Local] Organizing Committee, and I had a private discussion with Mr Mutko - everything is running quite well," the FIFA president said. "We are very positive."
Infantino, who was elected as FIFA's first new president since 1998 last month, chaired his first executive committee meeting in Zurich this week, where he met with Russian Sport Minister Vitaly Mutko.
Russia won the bid to host the 2018 World Cup at the FIFA Congress on December 4, 2010. The Russian bid beat out rivals England, a joint bid from Portugal and Spain, and a joint bid from Belgium and the Netherlands.
Eleven Russian cities will host games across 12 venues, with fixtures scheduled to take place in Moscow, St. Petersburg, Kazan, Sochi, Samara, Nizhny Novgorod, Kaliningrad, Rostov-on-Don, Yekaterinburg, Volgograd and Saransk. The matches will be held between June 14 and July 15.