Warriors break Bulls' NBA season-best record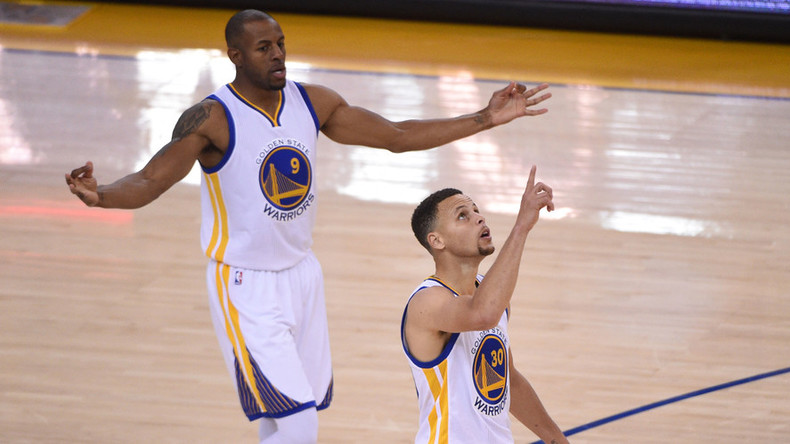 Golden State Warriors have secured their place in NBA history after completing the regular season with a 73-9 record.
The Warriors' 125-104 win against the Memphis Grizzlies took the defending champions past the previous record of 72 set by Michael Jordan's Chicago Bulls in 1995-96.
Star man Steph Curry also became the first to bag over 400 three-pointers in a season, taking his total to 402.
He has hit a three-pointer in a record 152 straight games and had a league-best 40 games with 30 points or more in a season.
Curry led the way against the Grizzlies with 46 points in front of an ecstatic sell-out crowd of 19,596 at the Oracle Arena.
Warriors coach Steve Kerr said: "It's a great way to finish off what was an amazing regular season.
"I just told our guys I never in a million years would have guessed that that record would ever be broken. I thought it was like (Joe) DiMaggio's hit streak."
Warriors went through the regular season without losing consecutive games and avoided losing to the same team twice - both firsts in NBA history.
The Warriors started the season 24-0, smashing the previous best of 15-0, set by the Washington Capitols (1948/49) and the Houston Rockets (1993/94).
While some of Jordan's former teammates have been less than complimentary about the Warriors in recent weeks, the NBA legend graciously praised them after the game.
"I want to congratulate the Warriors on their amazing season," he said.
"The game of basketball is always evolving and records are made to be broken. The Warriors have been a lot of fun to watch and I look forward to seeing what they do in the play-offs."
The Warriors now head into the post-season aiming for their fifth NBA Championship.
Their first round opponents, the Houston Rockets, secured their play-off berth courtesy of a 116-81 victory over the Sacramento Kings.
The Warriors have won their last eight games against the Rockets and are strong favorites to progress to the Western Conference Finals for a probable showdown with the San Antonio Spurs.
Curry says he's ready to crown what's been a memorable season so far with another NBA title.
"We love winning," he said. "We love to compete and to push ourselves, and that's what pushed us to the opportunity we had tonight, and hopefully we'll continue this weekend when we get the play-offs started."