German team's 'blackface' protest sparks row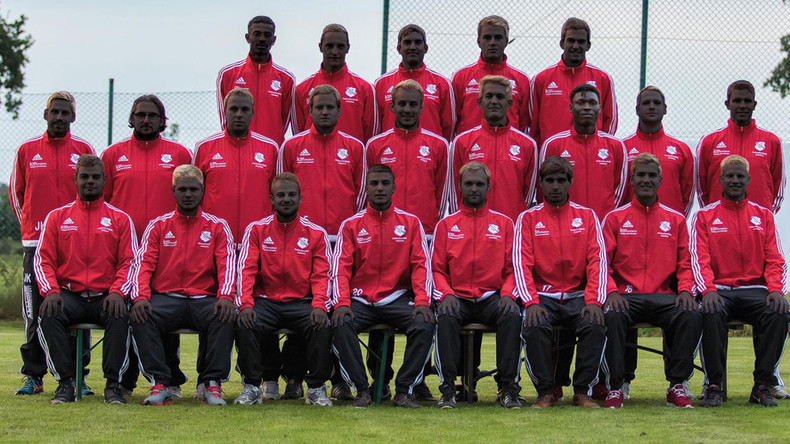 A football team has caused controversy with a questionable protest against a racist attack on two of their players.
German side Deinster SV, who play in the eighth tier Kreisliga Stade division, digitally altered a team photo to make their players have black faces and posted it on the club's Facebook page.
Head Coach Sonke Kreibecj said Sudanese players Emad Babiker and Amar Alnoor had been subjected to verbal and physical abuse while celebrating a victory with their teammates.
"We as a team were stunned and asked us how we can respond," Kreibich told the Jetzt website. "We wanted to set an example, both inwardly and outwardly.
"It should be made clear that Emad and Amar are an integral part of our team and not a minority, to which one can let out personal frustration with violence."
The photo included a message, saying: "Our friend and fellow player Emad was on Saturday, on racial grounds, insulted and beaten. This is just sad!
"Violence against refugees is pathetic!! Emad and Amar - you belong to us and we are pleased that you are with us!!!"
The duo had been attacked on a dance floor, while Babiker was beaten on his way home.
The photo has received over 18,000 likes on Facebook and been shared over 2,500 times, with many of the messages backing the club's actions.
"Great response to the xenophobic attacks against your fellow players. Way to go, hold together and shows moral courage," was one response, but other people were quick to point out the club may have scored an own goal with the photo.
"Unfortunately, you are you not aware that the 'Blackface' tradition always makes a fool out of people with dark skin, whether from contempt or out of solidarity," read one message.
"Please don't repeat it, and please do a little research!"
Modern culture in the US has rejected minstrel shows and the tradition of the blackface, identifying it as a largely racist act.
Many still argue blackfacing to be harmless fun, as highlighted by NHL player Paul Bissonnette in 2011 when he posted a photo on Twitter of his Phoenix Coyotes teammate Raffi Torres dressed up in blackface as Jay Z on Halloween.
The players and the club all denied racist intent, although the picture was subsequently removed.
READ MORE: Foul play: The worst social media fails in sports