Amnesty slams Qatar & FIFA over World Cup working conditions
Amnesty International has accused Qatar of using forced labor during the construction of a World Cup 2022 stadium.
The rights group has published a report which condemns FIFA for "failing almost completely" to stop the tournament being "built on human rights abuses."
Amnesty says workers at the Khalifa International Stadium have had their passports confiscated and their wages withheld, and are being forced to live in squalid accommodation.
One of Amnesty's main concerns surrounds the use of the 'kafala' sponsorship system, whereby migrant workers are unable to change jobs or leave the country without permission from their employer.
Qatar had pledged to reform the system, but Amnesty secretary general Salil Shetty says the issue is yet to be resolved.
"All workers want are their rights: to be paid on time, leave the country if need be and be treated with dignity and respect," he said.
Amnesty conducted interviews with over 230 workers in and around the Khalifa sports complex from February to May last year.
Everyone interviewed reported poor living conditions, abuse, withheld salaries or confiscation of passports.
One worker told Amnesty he was threatened by his employer when he complained about not being paid for several months.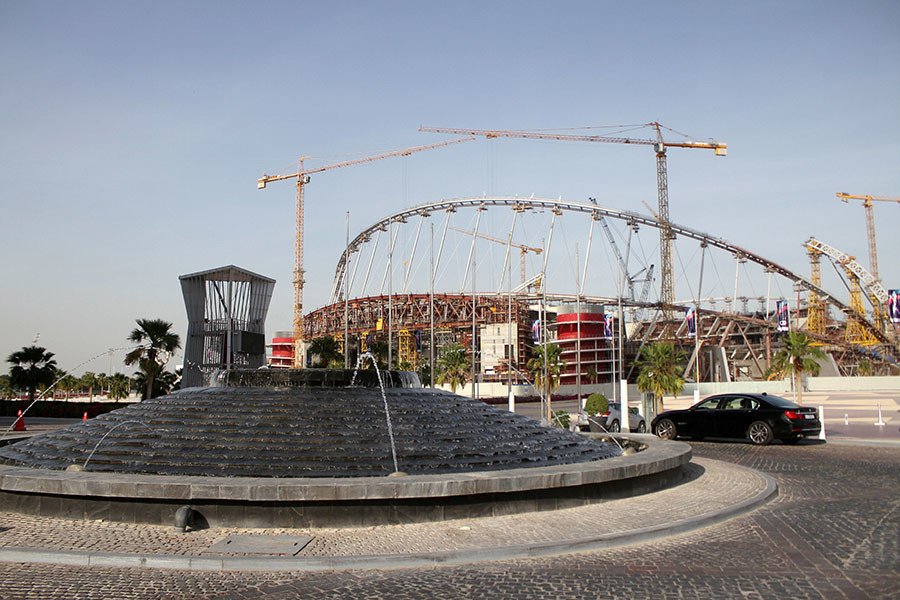 "He [my employer] just shouted abuse at me and said that if I complained again I'd never leave the country," the worker said.
"Ever since I have been careful not to complain about my salary or anything else. Of course, if I could I would change jobs or leave Qatar."
All workers interviewed reported going into debt to pay recruitment fees – illegal under Qatari law – ranging from $500 to $4,300 to secure work.
Most discovered on arrival that they would be paid less than promised by recruiters back home. Some of those interviewed reported earning basic salaries of well below $200 a month, plus allowances of around $50 a month for food.
Mustafa Qadri, Amnesty's Gulf migrant rights researcher, confirmed that while Qatar had made some improvements to working conditions, many more were needed.
"Clearly there's a problem here. Whatever they've done has not been enough to prevent abuse," he said. "What we'd like to see is not excuses but actual action."
Qatari authorities confirmed they are committed to improving working conditions, saying reforms were a "work in progress" and that investigations will be held into the contractors named in the report.
"Though many of the points raised by Amnesty have already been addressed through recent legislative changes, we are concerned by a number of allegations contained within the report," the government said in a statement.
The Supreme Committee for Delivery and Legacy, which is leading Qatar's development of venues for the tournament, also said it had already addressed many of the concerns raised by the report, and that the problems cited "were not representative of the entire workforce."
"The tone of Amnesty International's latest assertions paint a misleading picture and do nothing to contribute to our efforts," it said.
"We have always maintained this World Cup will act as a catalyst for change - it will not be built on the back of exploited workers. We wholly reject any notion that Qatar is unfit to host the World Cup."
FIFA released a statement which acknowledged that "challenges remain" and that the situation was "an ongoing process."
"FIFA is confident that the structures and processes set up so far by the Supreme Committee for Delivery and Legacy, which is the entity responsible for the delivery of FIFA World Cup infrastructure, provide a good basis to monitor labor rights of migrant workers," the statement said.
You can share this story on social media: