Football goes East: Chinese billionaires pour hundreds of millions of dollars into FIFA sponsorship
Published time: 22 Mar, 2016 11:39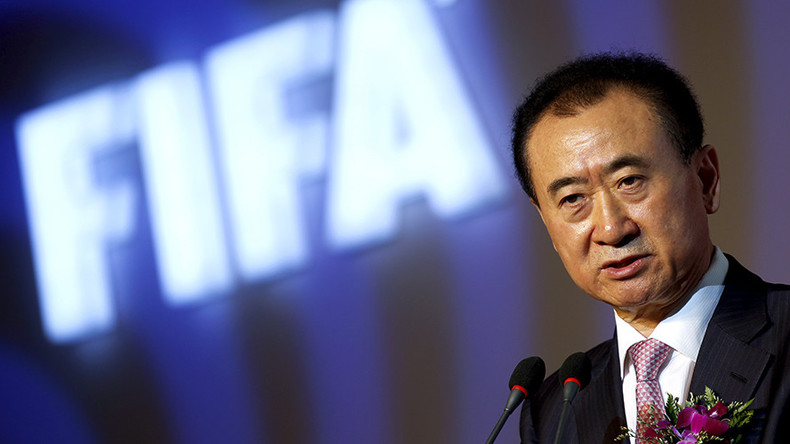 The fact that Western sponsors are walking away from football's troubled governing world body, FIFA, has presented an opportunity for Asian companies, according to China's richest man.
FIFA has been embroiled in a debilitating bribery scandal over the last 12 months that has seen a host of high-ranking officials, including former president Sepp Blatter, removed from the organization.
The dip in the body's reputation has seen major sponsors walk away from it, with a black hole in corporate support leading to loss of over $100 million in the previous financial year.
READ MORE: Scandals hit FIFA sponsorships, leading to over $100mn loss
However, China's richest man Wang Jianlin has stated that the corruption scandal has presented an opportunity for the Asian nation's companies to become sponsors of the football organization that would not have previously been possible.
He owns the Dalian Wanda Group, which last week became the first Chinese company to undertake sponsorship with FIFA in a deal believed to be worth hundreds of millions of dollars.
Wang has said that the changing of the guard and the acrimonious recent past of FIFA was a chance for China to increase its exposure in the sport.
"Two or three years ago, Chinese and Asian companies probably wouldn't even have had a chance to sponsor FIFA, even if we wanted to," he said.
"But because some Western companies dropped out, we got the opportunity. To my knowledge, another Chinese company will become a FIFA top sponsor soon. If there are no surprises, there will be three Chinese top-level sponsors by the end of the year."
"If more Chinese brother companies become FIFA sponsors like Wanda, we will join forces to advance the interests of China soccer."
Newly elected FIFA president Gianni Infantino will be handed the unenviable task of reviving the organization's reputation and said he was happy to partner with the Dalian Wanda Group.
"This sponsorship is totally worthwhile because I believe that in the future the soccer industry in China and Asia will become the same as in Europe," he said.
"No matter what happened at FIFA, no matter who is FIFA president, and no matter what reforms take place.
"I believe that the relationship with Wanda will support us to continue the ongoing development and growth of the game in China and all over the world."
Chinese President Xi Jinping is an avid football enthusiast and last year released a 50-point plan to further the sport's prominence in the country.
READ MORE: China plans to become global football powerhouse
This includes measures designed to make the national team more successful such as special soccer schools, with the aim to establish 20,000 schools within five years and 50,000 within a decade.
China have only participated in the World Cup Finals once, in 2002, but the country's performance was later tarnished after national squad members were jailed for match-fixing.
With the Chinese economy booming over the last decade, investment in sport has increased dramatically.
Chinese ambitions were highlighted in a recent high-profile investment, with a consortium led by media mogul Li Ruigang purchasing 13 percent of Manchester City's parent company, City Football Group, late last year.
READ MORE: Could the Chinese Super League overtake MLS as the hottest football destination outside Europe?
An influx of overseas stars has also been drawn to the lucrative Chinese Super League, with the likes of Ramires, Jackson Martinez and Alex Teixeira heading to play in China.