Mayor promotes Riga as 'Meldonium Home City' amid widening doping scandal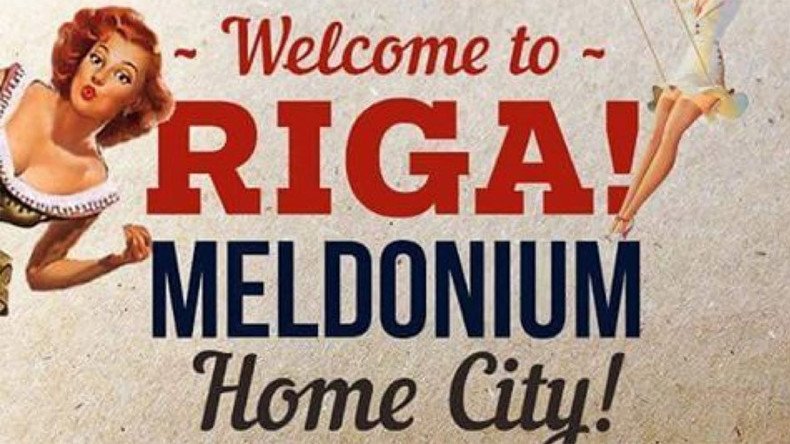 Riga's mayor has endorsed the use of Meldonium, a drug manufactured in Latvia that was recently banned by WADA and resulted in the suspension of tennis star Maria Sharapova. "Welcome to Riga! Meldonium Home City!" the Facebook page of Nils Usakovs now reads.
"A new strategy for city advertising. Unofficial, of course," Usakovs tweeted before changing his Facebook background to a 1950s style poster, showing attractive women enjoying a healthy lifestyle. The message was also shared in Russian on the mayor's Instagram page.
Meldonium, marketed as Mildronate by the Latvian pharmaceutical company Grindeks , has become a source of national pride for the country of under 2 million people, following the scandal involving Maria Sharapova.
"It's sad that there is such a situation, that this drug has been banned," Andrejs Vaivars, a spokesman for Prime Minister Maris Kucinskis, said late last week. "Especially given that is one of the most significant accomplishments of Latvian scientists in general."
Meldonium was first developed in Latvia in the early 2000s as a treatment for ischemia, a health condition which results from a reduction in blood flow to body tissues. It causes muscles to tire during exercise, as they rapidly use up their oxygen supply. To prevent this, meldonium ensures that more oxygen remains available to muscle cells for the processing of glucose in order to release energy.
Mildronate is registered for sale in Latvia, Lithuania, Russia and other countries of the former Soviet Union, but does not have a license from the United States Food and Drug Administration (FDA) or the EU's European Medicines Agency.
While the Russian tennis star became the first to publicly admit to using the drug after it was placed on the ban list by the World Anti-Doping Agency (WADA) on January 1 – the number of positive tests among athletes for meldonium has already reached 100, WADA spokesperson Ben Nichols told USA Today.
Sharapova tested positive for meldonium in a sample taken on January 26, the day she lost her Australian Open quarter-final to Serena Williams.
Admitting to taking the medicine, she told a news conference her family doctor had been prescribing mildronate to her for a range of health issues over the past 10 years, during which time it was not illegal.
The 28-year-old Russian, a five-time grand slam champion, was provisionally suspended starting March 12, by the International Tennis Federation. In the meantime, Sharapova the highest-paid woman in world sport lost millions of dollars in sponsorship from Nike, Swiss watchmaker TAG Heuer and Porsche.
In light of the latest developments, Sharapova has been suspended as a goodwill ambassador by the United Nations.
"In light of Ms Sharapova's recent announcement, we last week suspended her role as a Goodwill Ambassador and any planned activities while the investigation continues. We wish Ms Sharapova the best," the UNDP told Reuters in an emailed statement.
While WADA so far failed to disclose the full list of the 100 athletes, known mildronate users include Swedish distance runner and 2013 world champion Abeba Aregawi, Russian cyclist Eduard Vorganov and Ukrainian biathlete Olga Abramova.
The meldonium scandal has sparked a huge controversy in the world of sports, with many athletes defending Sharapova's honesty.
While Serena Williams said she was as "shocked" and surprised as everyone else by the Sharapova news, she praised her fierce Russian rival for her courage.
"As Maria said, she's ready to take full responsibility," Williams said last week. "She showed a lot of courage and a lot of heart. I think she's always shown courage and heart in everything she's done, and this is no different."
Tennis star Caroline Wozniacki also praised Sharapova's announcement, believing that the Russian player was honest.
"Any time we take any medication, we double, triple and quadruple check, because sometimes even things like cough drops or nasal sprays can be on the list," Wozniacki said. "I think as athletes we always make sure to really make sure there's nothing in it."
Strong sympathy and support for Sharopava, forced Russian Deputy Prime Minister Arkady Dvorkovich to speculate over the weekend that WADA's decision to ban meldonium was possibly politically driven, allegations which WADA brushed aside on Tuesday.
"WADA strongly denies that the inclusion of meldonium on the 2016 prohibited list was in any way political," the anti-doping body told R-Sport. "This is a tried and tested process that has existed for many years. There can be no question as to the process that was followed which established meldonium as a banned substance as of 1st January 2016."
You can share this story on social media: