Sharapova hits out at 'media distortion,' rejects claims she was sent 5 warnings on drug changes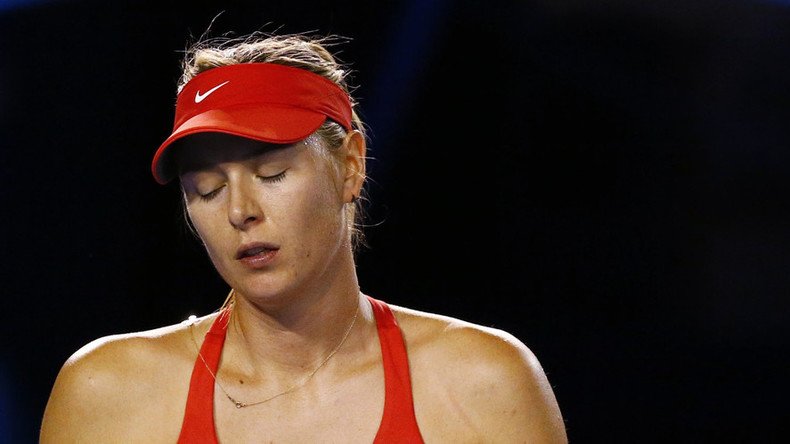 Maria Sharapova has denied claims she was warned five times about changes to the list of banned substances on the Tennis Anti-Doping Programme, and has criticized sections of the media for failing "to accurately report the facts about what happened."
In a Facebook message addressed to her fans and posted on Friday, Sharapova denied that she had been warned five times about the ban on meldonium, the drug she had been taking for 10 years.
"A report said that I had been warned five times about the upcoming ban on the medicine I was taking. That is not true and it never happened," Sharapova's message reads.
"That's a distortion of the actual 'communications' which were provided or simply posted onto a webpage," she adds.
The tennis star then goes on to explain that she had received an email dated December 22, 2015, with the subject line 'Main Changes to the Tennis Anti-Doping Programme for 2016.' She admits that she neglected to pay sufficient attention to the notice, but that all other information about the upcoming ban had been "buried in newsletters, websites, or handouts."
The five-time Grand Slam champion criticizes the way that the changes to drug laws were communicated, saying that on one occasion they were buried inside a general "Player News" email, in which players "had to open an email with a subject line having nothing to do with anti-doping, click on a webpage, enter a password, enter a username, hunt, click, hunt, click, hunt, click, scroll and read," adding that "I guess some in the media can call that a warning. I think most people would call it too hard to find."
The 28-year-old again said she takes full responsibility for the error that led to the failed drug test which has caused her to be banned from competition from March 12.
However, she reiterates her belief that "it's wrong to say I was warned five times."
The Russian also takes issue with reports that have stated that four-to-six weeks is the normal course of treatment when taking meldonium (also known as mildronate), rather than the 10 years Sharapova has been taking the drug.
Her message repeated a report that gave directions from the drug's manufacturer, which read, "Only physicians can follow and evaluate [a] patient's health condition and state whether the patient should use meldonium for a longer period of time."
Sharapova then adds, "That's exactly what I did. I didn't take the medicine every day. I took it the way my doctor recommended I take it and I took it in the low doses recommended."
She concludes her message by writing, "I'm proud of how I have played the game. I have been honest and upfront. I won't pretend to be injured so I can hide the truth about my testing."
"I look forward to the ITF hearing at which time they will receive my detailed medical records."
READ MORE: Ban on Meldonium may increase deaths among athletes – inventor of drug used by Sharapova

Sharapova has been banned by the International Tennis Federation (ITF) indefinitely, pending investigation. She has had major sponsorship deals with Nike, Tag Heuer and Porsche put on hold, but recently received a boost from her racket sponsor, Head, which said it will continue to work with the tennis star.
READ MORE: Sharapova backed by racket sponsor, thanks fans for support over failed drug test
She is determined to make sure that the ban does not spell the end of her playing career, and her legal team is confident of securing a ban of less than one year, according to a report in the New York Times.
You can share this story on social media: