Tennis star Sharapova to be 'provisionally suspended' after failing drug test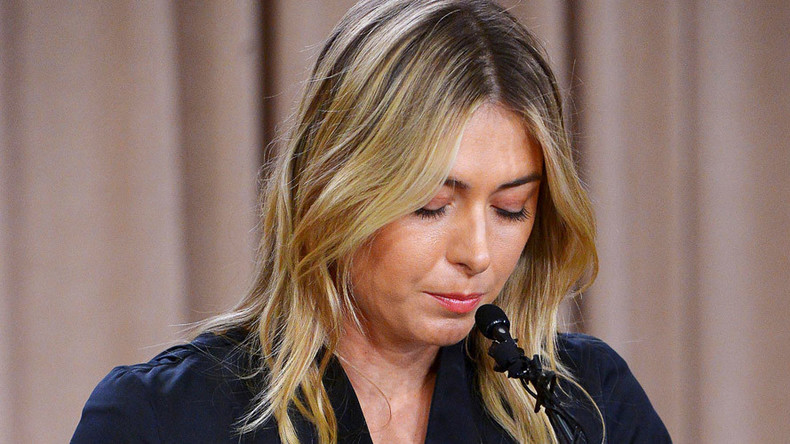 Russian tennis superstar Maria Sharapova announced she has failed a drug test at a surprise press-conference in Los Angeles. The International Tennis Federation (ITF) said Sharapova will be suspended from competition pending a probe.
"Throughout my long career I have been very open and honest about many things," Sharapova said, adding she was informed by the International Tennis Federation (ITF) that the failed drug test was taken at this year's Australian Open.
"I take great responsibility and professionalism in my job every single day, I made a huge mistake. I made a huge mistake, I let my fans down, I let the sport down that I've been playing since the age four," the 28-year-old said.
The Russian explained that the positive test result was caused by the drug meldonium, which she had been legally taking for the last 10 years and was only included on the forbidden list on January 1, 2016.
"I know that with this, I face consequences, and I don't want to end my career this way. I really hope I will be given another chance," Maria said. "I can't blame anyone for it but myself. At the end of the day, everything you do is about you."
Maria said that she received an email from World Ant-Doping Agency (WADA) with the list of substances forbidden in 2016 back in December, but she "didn't look at that list."
Sharapova added she would have never retired at a hotel with "this fairly ugly carpet."
Tennis Anti-Doping Programme (TADP) has issued a statement confirming that Sharapova "was charged on 2 March with an Anti-Doping Rule Violation" after testing positive for meldonium.
"As meldonium is a non-specified substance under the WADA (and, therefore, TADP) list of Prohibited Substances and Prohibited Methods, Ms. Sharapova will be provisionally suspended with effect from 12 March, pending determination of the case," TADP said.
Maria Sharapova was born in 1987 in the town on Nyagan in Siberia's Khanty-Mansi Autonomous Region.
She has been playing tennis at the professional level since 2001, winning 35 career WTA tour titles.
Maria first became World No.1 in August of 2005 at the age of 18 and repeated the achievement four times, occupying the first spot in women's tennis for a total of 21 weeks.
She's the only Russian and the tenth female player ever to collect a Career Grand Slam, as she claimed the Australian Open, Wimbledon, the US Open and two French Open titles.
Sharapova won the Fed Cup with the Russian national team in 2008 and an Olympic silver medal in London in 2012.
Maria has also been at the top of Forbes' list of wealthiest female athletes for over a decade, as her sporting achievements and good looks have helped the blond land lucrative advertising deals with top international brands.
Sharapova is not the only Russian sportswoman to get into trouble over the fresh meldonium ban. Also on Monday figure skater Ekaterina Bobrova, the 2014 Olympic champion, announced that she had failed a doping test and will have to skip the upcoming championship in Boston along with her partner Dmitry Solovyov.
Bobrova's coach said the skater didn't take the drug deliberately and that an investigation is needed to establish how it entered her system. Meldonium is metabolized in about a day, so the drug must have been introduced sometime during the European ice skating championship in Slovakia at the end of January, when the doping test was taken.
Several other athletes were provisionally banned earlier for using meldonium since it was prohibited this year.
You can share this story on social media: