Sharapova changes dress, wins 600th career match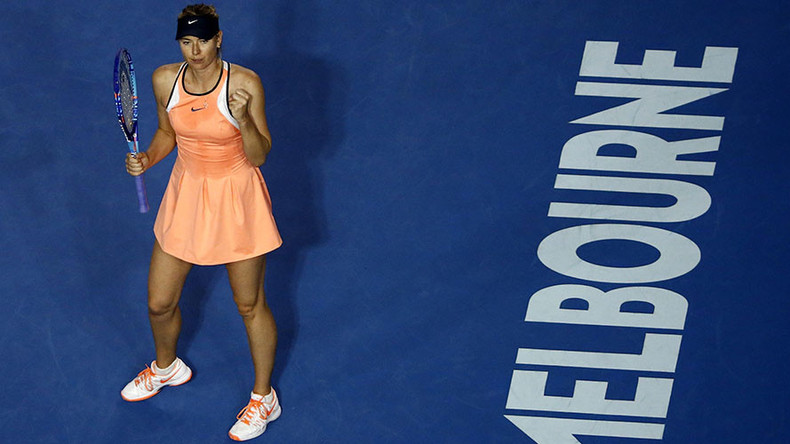 Maria Sharapova lost a second set tiebreak and then changed her gear - literally and figuratively - to completely shut down the unseeded Lauren Davis and win 6-1, 6-7(5), 6-0 in the third round of the Australian Open.
Sharapova opened the match against the American with a comfortable 6-1 first set before Davis pushed the former world number 1 to her limits in the second. Sharapova was up 2-0 and cruising before her serve went haywire, allowing Davis to win five consecutive games and eventually win the second set on a tiebreak.
Between the second and third sets, Sharapova took an extended break to change her clothes and came back storming, hitting two aces with her first two serves of the third set and closing out the remainder without dropping a game to move to the fourth round.
Speaking after the match, Sharapova dismissed suggestions that the break was a tactical maneuver.
"I don't have a chat in the mirror, I think I get fined for that," she said.
"I changed my dress and felt a little bit lighter which made me move better. But other than that, that's all I can share."
This was 28-year-old Sharapova's 600th career win and the Women's Tennis Association (WTA) was quick to recognize the achievement.
Sharapova will face the 12th-seeded Belinda Bencic in the fourth round. A potential clash with the current world number 1 and title favorite Serena Williams awaits in the quarter-finals, but Sharapova will need to play at her best to first get past the 18-year-old Bencic in the round of 16.
Bencic is a fast-rising star on the WTA circuit and the first Swiss woman to reach the fourth round at Melbourne Park since Martina Hingis in 2007. Sharapova, a five-time grand slam champion, will need a more consistent performance than yesterday to find her way past Bencic.
After the match Sharapova was modest and self-effacing about her 600th win milestone, a mark only 16 women in the history of the sport have achieved.
"Oh, wow, I've won 600 matches? Oh boy. Is this like a friendly reminder that I'm getting older? Might be!"
You can share this story on social media: