NBA history: Curry and the Warriors just keep rolling
Published time: 4 Mar, 2016 21:13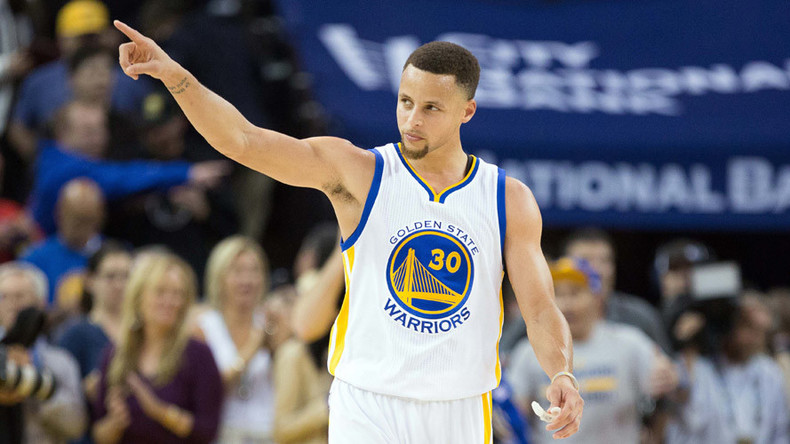 Steph Curry and the Golden State Warriors continued their pursuit of a place in NBA history with a comfortable 121-106 victory over the Oklahoma City Thunder on Thursday.
The result saw Warriors tie the Chicago Bulls' record of 44 consecutive regular season wins at home and moved them to 55-5 for the season.
Warriors remain well on course to beat the Bulls' record of 72-10 set during the 1995/96 season.
Curry, who scored 33 points against Thunder, commented, "that's an amazing accomplishment. It's a compliment to us as a team, our coaching staff and obviously our fans who bring that atmosphere every night to give us the ultimate home-court advantage."
The Warriors' star man looks well set to claim a second successive MVP award in the NBA, with even LeBron James waxing lyrical about some of his recent performances.
@StephenCurry30 needs to stop it man!! He's ridiculous man! Never before seen someone like him in the history of ball!

— LeBron James (@KingJames) 28 February 2016
However, not everyone has been praising him, with former player Oscar Robertson seemingly less-than-impressed with Curry.
During a recent interview with ESPN Robertson claimed the 2006/07 team would beat the current team, saying the modern game is less physical than the past.
Curry said he found the comments strange. "When you hear, honestly, legends, kind of come at you, it's kind of just weird," he said.
"It's starting to get a little annoying just because it's kind of unwarranted from across the board. We have a very competent group, and we have fun when we're out there on the floor, and it shows, obviously."
Elsewhere, the San Antonio Spurs moved to 52-9 for the season after a 94-86 victory at New Orleans Pelicans.
The win followed up Wednesday's 97-81 home success against Detroit Pistons which saw them extended their unbeaten run at home this season to 29 games.
Kawhi Leonard crowned a 30-point, 11-rebound display with a three-pointer to seal the game with 35 seconds left to help the Spurs to their seventh successive win.
"I'm just playing in the flow of the game. It doesn't matter what quarter it is. I'm going to play the right basketball so we can get the right shots," said Leonard. "Fortunately, I was able to make shots down the stretch."
LaMarcus Aldridge had 26 points, including the crucial go-ahead basket with the scores tied at 86-86.
Thursday's remaining fixtures saw Miami Heat win 108-92 at home to Phoenix Suns, while Sacramento Kings ended a four-game losing streak with a 104-101 success at Dallas Mavericks.