New Zealand cricket legend Martin Crowe dies aged 53
Published time: 3 Mar, 2016 09:58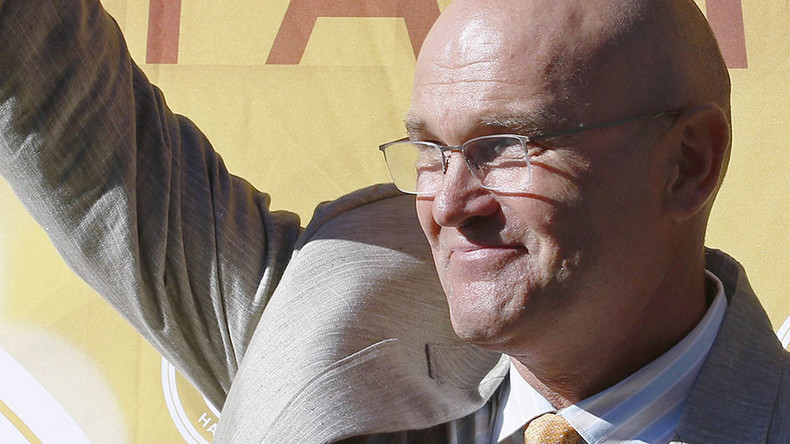 The cricketing world is mourning the death of arguably New Zealand's greatest-ever player, with news that Martin Crowe has died aged 53
The former Black Caps captain was diagnosed with terminal Lymphoma in September 2014 and lost his battle with the disease this morning.
A statement from Crowe's family confirmed he had passed away peacefully in Auckland "surrounded by family."
Regarded by many as the finest batsman to ever come out of New Zealand, Crowe represented his country in 77 tests and boasted a 45-run average.
He had a number of memorable innings at the crease during his career, with his 299-run stint against Sri Lanka in 1991 the stuff of legend.
Crowe named reaching a century against England at Lord's in 1994 as one of his greatest achievements, which was made all the more remarkable given that he had just returned from a serious knee injury.
The skillful batsman breached the 100-run mark on 17 occasions.
He was regarded as a leading analytical thinker in the sport and created Cricket Max, which preceded the Twenty20 format.
Crowe spearheaded a golden era for New Zealand cricket and was immensely popular amongst the masses, despite being outspoken over certain issues.
He admitted to burning his New Zealand blazer following the decision to replace Ross Taylor as national captain in favor of Brendon McCullum.
Despite this, heartfelt condolences have come in from the world over following the news of Crowe's death, led by New Zealand Prime Minister John Key.
"Martin was a truly great sportsman – one of our finest ever batsmen and sharpest cricketing minds," the PM said.
Black Caps coach Mike Hesson said Crowe's death had the potential to affect some of the current players deeply.
"He was a mentor, he was a friend that - when times are tough, which they are in this game - they felt they had someone they could really talk to," he said.
"The whole cricket family around the world will be mourning him."
The former Auckland Grammar student admitted his dream of seeing New Zealand in a Cricket World Cup final - something he witnessed last year.
Despite his nation being blown away in a one-sided final by trans-Tasman rivals Australia, the Black Caps' participation on the grandest stage was something that sat well with Crowe.
His elder brother Jeff was also a test player, and their father Dave was a First Class cricketer.
Crowe's cousin, actor Russell Crowe, tweeted his condolences.
Martin Crowe was the third of his countrymen to be inducted into the Cricket Hall of Fame and is survived by his wife, Lorraine Downes, and a daughter, Emma.