F1: Hamilton targets 3rd successive title as teams gear up for new season
Published time: 22 Feb, 2016 14:17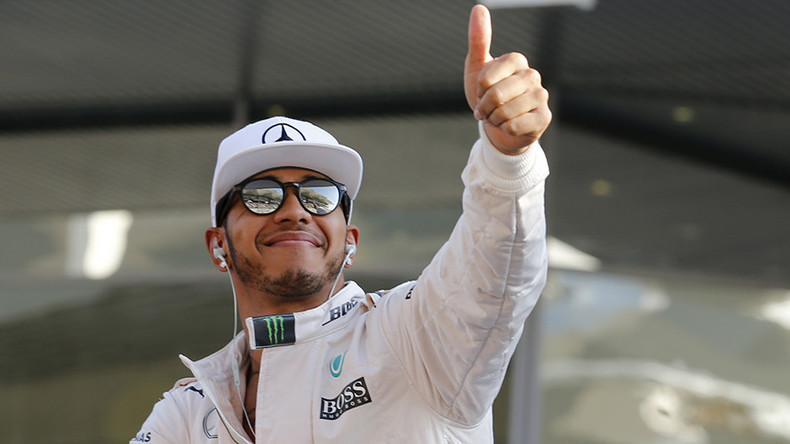 Lewis Hamilton has laughed off Sebastian Vettel's claim that Mercedes' recent domination of F1 has made the sport less exciting as he targets a third success title.
Vettel, who won four successive drivers' titles with Red Bull before Mercedes surged to the head of the pack, said: "The dominance of Mercedes in the past two years took away a lot of excitement for the fans."
Hamilton begs to differ. "It's pretty funny because he had four years of it and l've only had two. Until l get to his level l won't have bored them as much as he had!" he said.
The German giants revealed the first official pictures of their new car on Sunday, which they hope will fire them to their third constructors' title in a row.
Hamilton is also seeking a hat-trick of titles and his fourth in total, as his team look to extend a run that has seen them win 32 of the last 38 races.
Their technical director, Paddy Lowe, said: "While the car may look very similar to its predecessor from the outside - as is inherent within stable regulations - underneath there are quite a lot of mini-revolutions that make up an overall evolution for the new season.
"It's very tough to find performance under a stable set of regulations and we were particularly pleased with how the car turned out in 2015 when we had the same situation.
"2016 is another carry-over year from a regulatory point of view and potential gains inevitably become harder to find under these circumstances. It's far easier to find performance when you have a new set of rules, that's for sure."
Hamilton and teammate Nico Rosberg are likely to face a stiffer challenge from Vettel this season, with the former world champion entering his second season with Ferrari.
Vettel won three races in his debut season with the Italian team and finished 103 points behind Hamilton, but he expects to finish much closer this time around.
"We had a fantastic year last year - obviously my first season with the team - and we all want more," said Vettel.
"Last year, we finished second overall in the constructors' championship so there is only one more step, which is a difficult one to take, but hopefully this car will help us achieve it. We have improved in many areas.
"When I joined the team there were a lot of people changing their positions and it was a difficult time to have expectations. But now we have had a much better winter to prepare and therefore we will be a strong team - as we have seen already last year - but even stronger this year."
Williams hope their new FW38 car will help them build on two solid third place finishes in the constructors' title race.
Felipe Massa and Valtteri Bottas are back for a third season with the British team and Massa is delighted to renew the partnership.
He said: "Securing third in the constructors' championship for two consecutive years is a great achievement and one that comes with a lot of expectation - a momentum which I am excited to build on going into the new season.
"I have a lot of confidence in the team at Williams and I'm looking forward to getting behind the wheel of the FW38 to see how it performs.
"I'm equally delighted to be teammates with Valtteri for another year. He is a very talented driver who brings a lot to the team."
Red Bull boss Christian Horner is anticipating a slow start to the season as the team develops its Renault engine.
"I believe it will be a transitional year," said Horner. "I think we are going to start the year with some progress from the end of last season, but I think with our engine partner's commitment to buying a team we will see staged progress during the course of the year."
One of the biggest names in American motorsport makes its debut this season, with the Haas F1 team entering the sport for the first time.
Their VF16 car was designed in the Maranello wind tunnel and uses Ferrari's 2016 engine, but owner Gene Haas doesn't expect his team to be running at the front of the grid.
Haas has hired the experienced Guenther Steiner as team principal, with Romain Grosjean and Esteban Gutierrez the drivers.
Steiner says Ferrari have been a huge help to the team: "Our methodology behind the VF-16 was to make it the best evolution of a good F1 car," he said.
"We're a new team, so we looked at what the successful teams were doing to give us a baseline of the direction we needed to go with our design. We have very experienced designers who worked hard to develop all the little things from an aerodynamic perspective that, collectively, add up to a lot.
"And our technical partner, Ferrari, provided our power unit, and that really defined the rear end of the car and how big it needed to be."