Would Mourinho appointment save Manchester United's season?
Published time: 21 Feb, 2016 13:06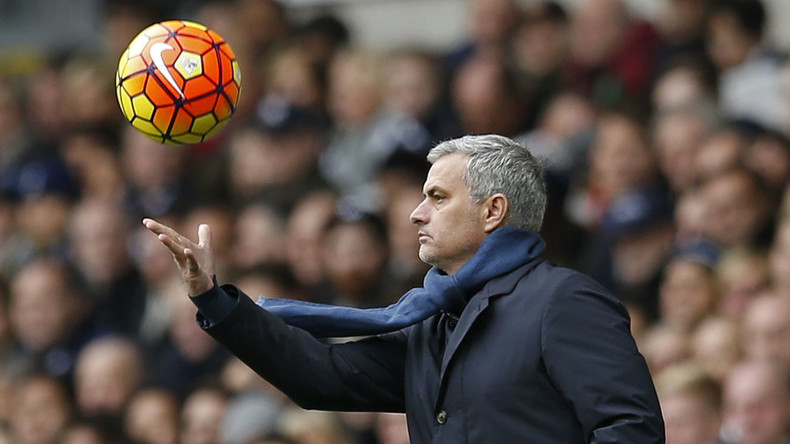 Calls for Manchester United to fire manager Louis Van Gaal and replace him with former Chelsea manager Jose Mourinho have intensified in recent weeks, but would Mourinho be the right answer - now or in the summer?
United manager Louis Van Gaal is the obvious scapegoat for poor recent results, although several other factors, - player performance, United's ineptitude in the transfer market (all negotiations are done by chairman Ed Woodward) and injuries - have also played a part.
If United fails to qualify for the Champions League it's likely Woodward would be pushed to make a managerial change. It's what happened with previous manager, David Moyes, who was fired when Champions League qualification became mathematically impossible.
But why wait until the summer? If United is to make up the six-point gap on City in fourth place, or if the club wants to use the Europa League as a route into the Premier League, it must act now.
Jose Mourinho is a polarizing figure in football. His stints at Chelsea and Madrid ended in bitter acrimony and players refusing to play for him. He also has tendency to stoke controversy as a matter of course, even when his teams are winning.
However, the problems facing Manchester United are more severe than Mourinho's sideshow theatrics. Since December, when Manchester United was top of the Premier League and favorites to qualify from their Champions League group, there have been continuous reports of player unrest and dissatisfaction with Van Gaal's tactics and training methods.
If the players stop playing for the manager, the club's ambitions can be set back by a few years. Just ask Chelsea, who were hovering around the relegation spots in December. Or pose the question to inconsistent Liverpool - no longer an automatic member of the Premier League top four since investment stopped at Anfield under the previous ownership.
READ MORE: Chelsea sack manager Jose Mourinho
Look at how United itself has performed since Sir Alex Ferguson retired. By any stretch of the imagination, there is nothing to suggest that United has progressed in any aspect of football, whether it's the playing squad, the youth team setup, performances on the pitch, coaching staff or players lining up to play for the club. Commercial success has masked some of the concerns, but that in itself was built on the promise of good performances on the pitch. When those evaporate, there is little left to do but to change things around.
Appointing Mourinho in the short term would jolt the squad and the players into fighting harder for the remaining 12 games in the league. It could even spark a run in the Europa League, assuming United beats the Danish champions on Thursday.
In the long run, however, United needs a much bigger overhaul. The club requires a director of football who, unlike Woodward, can pursue and negotiate transfer targets without being played by agents. Massive reinvestment is also a must for the youth academy, something that will take 5-10 years to bear fruit. Above all, of course, success on the pitch is what matters most.
In the short run, and perhaps even for a season or two, Mourinho can deliver that success. United must strike now for the chance of saving the current season and doing a far better job next year. Sentiment and ego, both a factor in Woodward backing his man Van Gaal, should not come into the equation.
Manchester United play League One side Shrewsbury Town in the fifth round of the FA Cup on Monday night, before hosting Danish club FC Midtjylland in the return leg on Thursday (Midtjylland lead 2-1 from the first leg), and closing out the week in the Premier League hosting Arsenal on Sunday. Three competitions, three chances for United to turn their season around.
Given the bedraggled state of affairs at the club, Mourinho may not even wish to sign on at Manchester United without significant financial guarantees. Injuries and several seasons of poor transfer market activity have left an imbalanced squad incapable of winning titles.
However, that is the price United must pay to secure a chance to redeem its lackluster season. Or else the project will start again in the summer, three years on from Ferguson's retirement, a period that has seen the club go backwards.