Jose Mourinho continues to haunt Chelsea & Manchester United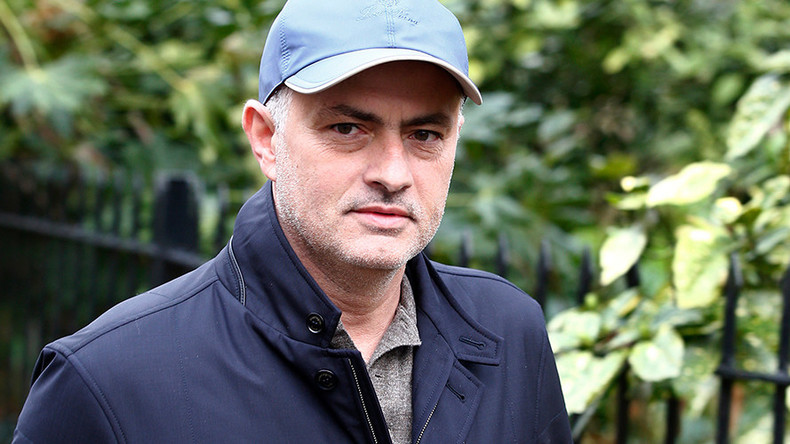 Chelsea and Manchester United are to meet again this weekend at Stamford Bridge, with the shadow of Jose Mourinho continuing to loom large over the two struggling giants.
Manchester United will travel to West London on Sunday to take on Chelsea in the latest edition of one of the English Premier League's most prestigious encounters. It is the second match between the sides in just over a month, with the pair playing out a frustrating 0-0 draw in December at Old Trafford - the Red Devils' sixth goalless draw at home this season. United boss Louis van Gaal has struggled to convince in second season, with dour matches a feature of his United side's performances.
Former Blues boss Jose Mourinho has been strongly linked with United, with the most recent news suggesting that the Portuguese has already signed an agreement to take over from Van Gaal at the end of the season, with Spanish paper El Confidencial saying the deal has been brokered by Mourinho's agent Jorge Mendes.
Van Gaal, known for his staunch refusal to accept criticism despite his side struggling with inconsistent displays all season, has long been linked with an exit from the club, with Jose Mourinho himself sure to be in attendance at Stamford Bridge for this Sunday's clash.
With Pep Guardiola set to take over at Manchester City at the end of the season, pressure has increased on the United hierarchy to make a decision over the beleaguered Van Gaal. While his side were impressive in the midweek 3-0 win over Stoke, it was the club's biggest win in four months and United are expected to record comfortable wins over the likes of The Potters. Results such as Wednesday's have been too few and far between, and with Mourinho offering the chance of regular silverware and a return to former glories, Van Gaal has quite a bit to do to prove his worth.

A win over Chelsea this weekend would certainly improve his chances of keeping Mourinho out, but the real test will be how United plays the rest of the season and whether it can finish in the Champions League places - United (fifth) are currently five points behind Arsenal (fourth) and with 14 games to go in the season, United will need to consistently play at a higher level than they have all season simply to finish fourth.
Big challenge now for Chelsea and Man Utd to march in step with City and make similar statements in the summer..

— Mark Ogden (@MarkOgden_) February 1, 2016
Chelsea, meanwhile, have been unbeaten in 10 games since Mourinho's departure in December. Interim boss Guus Hiddink has come in and successfully steadied the ship. Mourinho lost nine of his final 16 league games as Chelsea boss, leaving the club precariously hovering over the relegation zone. Chelsea is by no means back to its best and the rebuilding process will take time, but Hiddink has re-established a belief in the players, typified by the dramatic 3-3 draw with Everton in January.

This weekend's game will represent the past and potential future of Jose Mourinho. The state in which he left Chelsea will not have enthused the United hierarchy however, with United in need of a rebuild and restructuring itself despite spending $400m+ under the Dutch manager. Van Gaal remains on thin ice and will do all he can to avoid defeat. Chelsea will be looking to continue their slow resurgence and considering the current state of the two giants, a draw is the most likely result.
Mourinho to United rumours will continue until he gets another job - the question is whether that will be at United

— James Robson (@JamesRobsonMEN) February 4, 2016
You can share this story on social media: