Panarin celebrates White House visit with hat trick
Published time: 19 Feb, 2016 16:07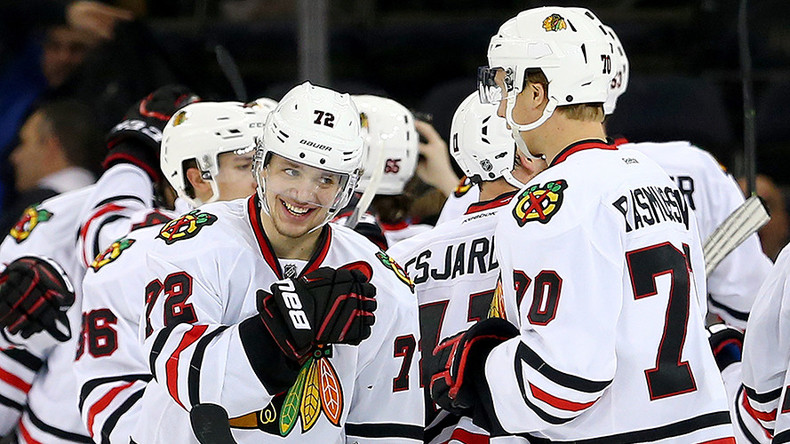 Artemi Panarin celebrated his White House invitation with his first NHL hat trick to lift the Chicago Blackhawks to a 5-3 victory against the New York Rangers on Wednesday.
The 24-year-old, who joined his Stanley Cup winning teammates when they visited President Barack Obama on Thursday, is enjoying a stellar first season with the Blackhawks.
Panarin is sixth in the NHL standings with 22 goals and 35 assists for 57 points, just one behind fellow Russian Evgeny Kuznetsov from the Washington Capitals.
Blackhawks boss Joel Quenneville said: "He's been great for us. The consistency, the contribution to that line, the powerplay, the puck possession game, the offense from day one. He's been fun to watch. He's enjoying himself here."
Panarin played in the KHL last season for SKA Saint Petersburg and wasn't part of the Blackhawks' cup winning squad, but he accompanied them on Thursday when their achievements were recognized by the White House.
President Obama honored his hometown team for their third Stanley Cup success in six years.
He was presented with a sweater by the team, and said his presidency seems to have brought the Blackhawks good luck.
Obama paid special tribute to defenseman Kimmo Timonen, who overcame blood clots to hoist the Stanley Cup at age 40.
Obama described their recent success as one of the most dominant stretches in professional sports and also joked he would take the Stanley Cup with him to a state dinner with Canadian Prime Minister Justin Trudeau next week. The joke didn't go unnoticed in Canada.
For Panarin, the visit was another standout moment in his rookie NHL year. Teammate Patrick Kane says the Russian is a special player.
"He's got a good shot - he's good with the puck," said Kane. "It's good to see him get rewarded for his good play, too."
"He's been a great fit for us. He's one of those players that's maybe exceeded some expectations coming in. Great find by the organization. We're happy to have him here."
Panarin has been highly touted as contender for the Calder Trophy - an award given to the player selected as the most proficient in his first year of competition in the NHL.
The left wing, who established himself as one the key players of the Russian national team during the 2014/15 season, scoring 9 goals with 5 assists in 13 games, faces some stiff competition for the trophy.
Philadelphia Flyers defenseman Shayne Gostisbehere is currently on an NHL rookie-record 13-game point streak. His 32 points in 38 games for the Flyers makes him leading points scorer amongst rookie blueliners.
Winnipeg Jets goalie Connor Hellebuyck and Anaheim Ducks netminder John Gibson are also in contention, while Buffalo Sabres forward Jack Eichel is another to impress in his first NHL season.
Panarin's previous KHL experience could count against him when the votes are cast, but with 11 points in his last six games, the Russian forward is making a strong case for himself.