Conor McGregor challenges Floyd Mayweather, apologizes for gun photo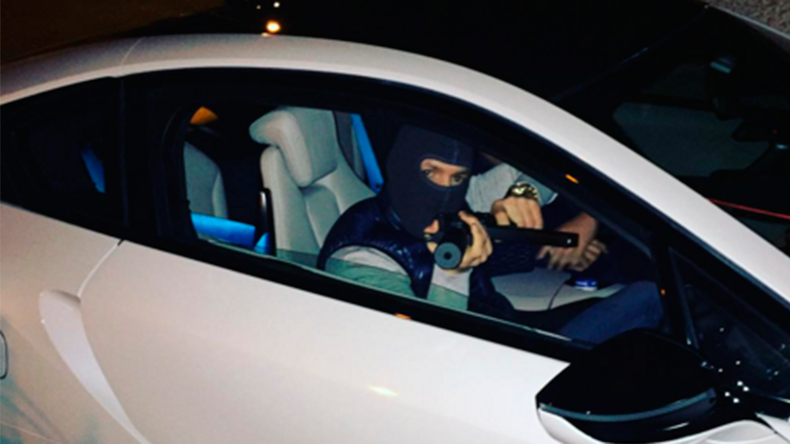 The UFC featherweight spoke of a number of stories about himself on Friday, apologizing for a photo he posted on Instagram posing with an air-soft gun and telling Floyd Mayweather: "Don't ever bring race into my success again."
On Wednesday, McGregor posted a photo on Instagram posing with a gun while sitting in his BMW i8.
The photo sparked another internet controversy with the Irish police alerted, and the Garda released an official statement on the matter, saying they would look into the circumstances under which the photo was taken.
Ireland's strict gun control laws prohibit the public display of weapons.
In an Instagram post on Friday, McGregor apologized for the photo, mentioning that the press is prone to hype up such stories.
"I apologize for having the air-soft in public," McGregor said. "I was simply rehearsing for a potential upcoming film role."
It seems be the same gun that he posted a video of late last month.
Boxing legend Floyd Mayweather gave a detailed interview to Fight Hype boxing magazine on December 30, 2015, in which he discussed racism in sport. He alleged that white fighters such as Rousey and McGregor were praised for their outrageous actions and for being outspoken, while as a black athlete he only received negative criticism for doing the same.
In the same Instagram post, McGregor replied to Mayweather's accusations, saying:
"Floyd Mayweather, don't ever bring race into my success again. I am an Irishman. My people have been oppressed our entire existence. And still very much are. I understand the feeling of prejudice. It is a feeling that is deep in my blood."
McGregor also challenged Mayweather to a fight while mocking him for his last bout.
McGregor has caused quite a stir in the UFC, showcasing frightening punching power and winning all seven of his bouts since entering the mixed marital arts competition.

The Dublin-born bruiser made global news when he knocked Jose Aldo out in 13 seconds last month to claim the featherweight title. It was the fastest championship victory in UFC history.
The Irishman is set to step up to the lightweight division in the near future and could well become the first fighter to hold both belts.
News has broken this week that McGregor has verbally agreed to fight 31-year-old Brazilian Rafael dos Anjos for the lightweight championship belt at UFC 197 in March.
READ MORE: UFC 194: McGregor stuns Aldo in 13 seconds to claim UFC crown
The Irishman has been unrelenting in his self-belief, but his step up to 155 pounds will be a significant challenge.
Speaking about his next fight, McGregor was his usual cocky self, saying:
"My next fight? What can I say, it's just another night of easy work for me. I don't just own the game. I run it too."
If he wins the lightweight belt at UFC 197, he will be even brasher than usual.
READ MORE: UFC 197: Conor McGregor & Holly Holm to fight for titles in mouthwatering March card
You can share this story on social media: