UFC 197: Conor McGregor & Holly Holm to fight for titles in mouthwatering March card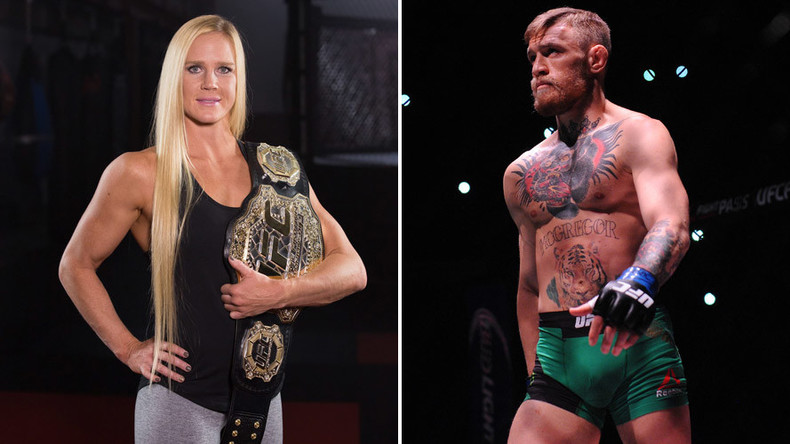 Reports in the American press indicate both Irish sensation Conor McGregor and Holly Holm have verbally agreed to participate in title bouts at UFC 197 in March.
McGregor has won seven consecutive fights since entering UFC and showed his caliber by knocking out Jose Aldo in 13 seconds to be crowned featherweight champion in December.
It was the fastest title fight knockout in UFC history, with the Irishman now seemingly set to step up a weight division to test himself.
READ MORE: UFC 194: McGregor stuns Aldo in 13 seconds to claim UFC crown
A clash with lightweight champion Rafael dos Anjos (25-7 MMA, 14-5 UFC) is thought to have been verbally agreed upon.
If McGregor were to defeat the 31-year-old Brazilian it would mean he would become the first fighter to hold both the featherweight and lightweight titles.
The Irish fighter's punching power has been undeniable in the featherweight class, but a move up to 155 pounds will be another test of his renowned self-belief.
The potential for a rematch between Holm and former women's bantamweight champion Ronda Rousey is not going to stop Holm from fighting again this year, with the belt holder to face Miesha Tate in UFC 197's co-feature.
Holm shocked the world by pummeling Rousey at UFC 193 in Melbourne, with immediate talk of another clash between the bruising pair.
However, this is potentially being teed up for UFC 200 later this year, with Holm keen to defend her title before facing Rousey again.
Tate was initially promised a title bout against Rousey in 2015, but was denied the chance when the UFC arranged Holm's clash with the former champion.
READ MORE: Holm's knockout blow stuns Rousey, rematch at UFC 200?
The 29-year-old mixed martial artist will pose a significant obstacle for Holm, with the winner expected to face Rousey in mid-2016.
Although official confirmation from any party is yet to be released, verbal agreements are said to have been offered ahead of a mouth-watering night of action.
UFC 197 was initially thought to be heading to Rio de Janeiro, but it now appears to be scheduled to take place in Las Vegas. Whether the MGM Grand Garden Arena or Mandalay Bay Events Center will play host remains to be seen.
The next action in the octagon will take place in UFC 196 on February 6, with a heavyweight championship bout between Fabricio Werdum and Cain Velasquez the headline contest at the MGM Grand.
You can share this story on social media: