Holm's knockout blow stuns Rousey, rematch at UFC 200?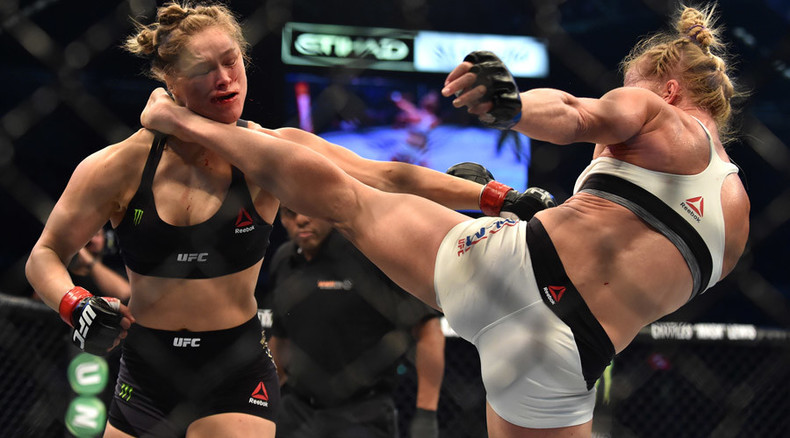 It was a kick heard around the world as Holly Holm delivered the knockout blow to Ronda Rousey at UFC193 in Melbourne this weekend.
Holm outclassed Rousey from the start, landing punches at will and frustrating the now former champ. Rousey looked exhausted by round two and Holm continued to pick her opponent off before scoring a perfect head-kick knockout finish.
While the result sent shockwaves around the world, UFC President Dana White was quick to see future possibilities, immediately floating the idea of a second meeting at the post-fight press conference.
"The rematch makes a lot of sense," White said. "I think the rematch is what people would want to see."
Holm isn't adverse to facing Rousey again – knowing some people might think the knockout was a fluke and that she simply got lucky.
She said: "I think a rematch makes sense for sure. I've been on the losing side of a fight, and I wanted the rematch, I wanted to avenge my loss.
"With a champion like Ronda who has gone out of her way – above and beyond – to do great things, absolutely, she deserves a rematch. I don't look at this belt and think I've made it. I think I still have things that I need to do.
"I think a rematch – that's just kind of unspoken, just common sense to me, I guess."
Rousey used Instagram to speak to fans for the first time since she was hospitalized after the bout.
The former judo Olympian, who was unbeaten in 12 UFC fights before meeting Holm, left the stadium to receive treatment for concussion and facial cuts at a nearby hospital. She skipped the post-fight media conference.
Rousey's trainer, Mick Dolce, told reporters she would recover from the defeat.
"Ronda has lost before – she lost at the Olympic Games," Dolce said. "That was a great test for her, and look at how she came back, she came back a multi-time world champion."
The former champion is likely to take some time away from the sport to regroup and rethink her game plan, after uncharacteristically trading punches with Holm. Rousey did manage to catch Holm with one of her signature arm bars, but her opponent survived and looked impressive in the process.
"This fight was a lot for me, mentally," Holm said. "I couldn't tell you how many times I cried in the gym leading up to this fight. It's a lot to take in.
"But those kind of fights are the ones that, a loss is that devastating, but a win is that sweet of a victory. It's uncomfortable sometimes, but I just really like to take the chance and believe in myself."
White wouldn't be drawn into speculation about a potential date for Holm v Rousey II, but with UFC 200 set for July 2016 at the newly-constructed MGM Arena in Las Vegas – what better way could there be to mark the occasion than with the biggest rematch in the sport's history?
You can share this story on social media: