Manny Pacquiao to fight Timothy Bradley in Las Vegas in April 9 bout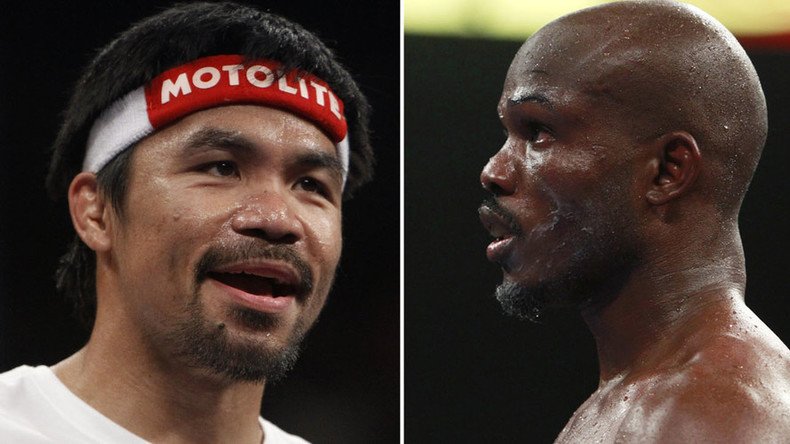 Amir Khan will have to wait – again. Promoter Bob Arum has confirmed that Manny Pacquiao will fight again in 2016, but this will be a rubber match against Timothy Bradley in Vegas, as Pacquiao charts his return to the boxing ring.
The Filipino has been out of action since being convincingly beaten on points by Floyd Mayweather in May while hampered by a shoulder injury.
Arum claims the fight at the MGM Grand against WBO welterweight champion Bradley, 32, is a "done deal".
The pair has fought twice before, with Bradley winning in June 2012 and Pacquaio victorious in April 2014.
Arum says the fight was finalized after he reached an agreement with Pacquiao's adviser, Michael Koncz, to send a $2 million advance against his $20 million guaranteed purse.
Pacquiao is expected to retire after the bout, but Arum says it's possible he could decide to extend his career.
"I don't want to say that it's his last fight," said Arum. "I'm not going to sell it as that because I don't want everybody to say, 'Hey, it's his last fight, come and see it!' and then it turns out that it's not his last fight.
"Who the hell knows with these guys? They all change their minds so I'm not selling it as his last fight. He says it's his last fight but who the hell knows?"
Although neither of the first two bouts set the world on fire, Arum believes Bradley is a different fighter since hiring ESPN television analyst Teddy Atlas as his trainer.
After firing Joel Diaz last autumn and convincing Atlas to take over his training, Bradley looked hugely impressive in a title defense against Brandon Rios, whom he knocked out in the ninth round of their fight in November.
READ MORE: Boxing in 2015: Mayweather v Pacquiao disappoints as new stars step up
Atlas said his fighter is in better shape now, both mentally and physically, and has learned plenty from his previous fights against Pacquiao.
"We'd correct the mistakes from the first two fights, use his experience from the past," said Atlas. "A lot worked well in those first two fights, and then we'll learn from our past. It's what winners do, what smart people are supposed to do."
Bradley (33-1-1, 13 KOs) defeated Pacquiao (57-6-2, 38 KOs) in 2012, with a split-decision win considered to be one of the most controversial in boxing history.
Judges Duane Ford and C.J. Ross awarded the fight to Bradley, despite nearly everybody seeing Pacquiao as the clear winner.
The result was so controversial it spawned multiple investigations and neither Ford nor Ross has judged since.
Pacquiao comfortably won their 2014 rematch via unanimous decision, dominating the fight, just as many believed he had done the first time.
Atlas says he has already studied the previous fights in preparation for the third bout.
"I already looked at it – I don't believe in waiting," he said. "When this fight was first discussed, I looked at it and I see what I should see and I see why Pacquiao was able to be effective and why Tim was able to be effective at the times when he was effective."
"Anyone who has watched me on ESPN for nearly 20 years knows I'm not one to throw out superlatives unless I believe them, but Pacquiao is one of the best fighters of the last decade.
"It'll be a tough challenge, but we'll make sure we're ready for it. We will respect the challenge Pacquiao presents. We will do what we're supposed to do and be 100 percent prepared. It will be a difficult fight."
You can share this story on social media: