Dirk Nowitzki moves past Shaq for 6th place on NBA all-time points list (VIDEO)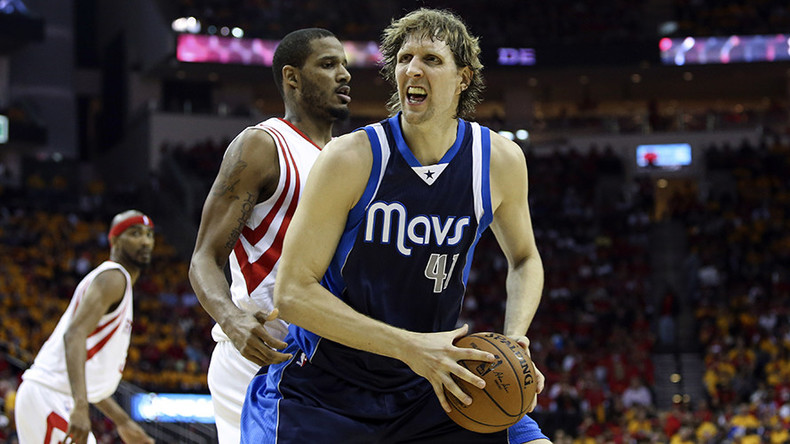 Last week, Dirk Nowitzki moved past soon-to-be hall-of-famer Shaquille O'Neil in the NBA's all-time points leaders list with a 22-point display as the Dallas Mavericks edged the Brooklyn Nets 119-118 on Wednesday.
Nowitzki finished his 1,293rd career regular-season game with 28,609 points as well as the game-winning basket with 19.2 seconds left in overtime. He now trails Kareem Abdul-Jabbar, Karl Malone, Kobe Bryant, Michael Jordan and Wilt Chamberlain on the NBA scoring list.
The 37 year old is in exalted company but has remained grounded. When presented with the five names ahead of him, he took it as a compliment.
"That sounds pretty good," the German told reporters. "That sounds really good. It's a dream come true. When I was 20 years old, I never expected this."
After Nowitzki passed O'Neal, his teammates used the next timeout to give him a standing ovation.
"That was a moment I'll never forget the rest of my life," said Nowitzki.
The 13-time All Star has had a relatively injury-free career and at 37 he is taking it season by season. If he can continue his scoring form of the current season - his 18th - there is an outside chance that he could overtake Wilt Chamberlain in #5 on the list. He has totaled 3,068 points in his last two seasons, and needs to stay fit to have any hope.
Nowitzki was quick to value the team over the individual accolade though:
"There have been a lot of great players who didn't score as many points because they were cut short by injuries. I've been lucky. And we got the win. It would have felt really salty flying home with a loss."
Nowitzki's Mavericks followed up the last-gasp win on Wednesday with a 118-111 win against Chicago Bulls on Sunday night, with Nowitzki racking up 16 points in the game. He is averaging 17.4 points per game this season, against a career average of 22.1 PPG.
NBA All-Time Points Leaders (Monday December 28, 2015)
1. Kareem Abdul-Jabbar (38,387)
2. Karl Malone (36,928)
3. Kobe Bryant (32,947) *
4. Michael Jordan (32,292)
5. Wilt Chamberlain (31,419)
6. Dirk Nowitzki (28,625) *
7. Shaquille O'Neil (28,596)
8. Moses Malone (27,409)
9. Elvin Hayes (27,313)
10. Hakeem Olajuwon (26,946)
* denotes active player