Former IAAF president asked Russia for $2m for political campaign – Le Monde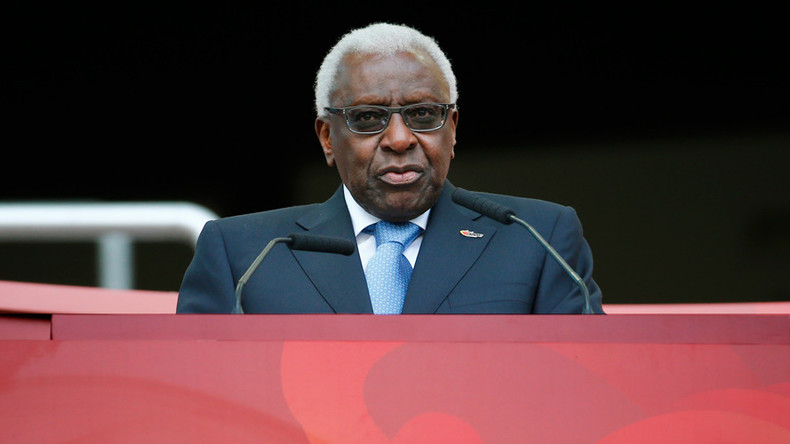 Former IAAF president Lamine Diack has admitted to French police that he asked former Russian athletics federation president Valentin Balakhnichev for $2mn in 2011to run a political campaign in his native Senegal, according to French paper Le Monde.
Le Monde says it has obtained Diack's police interview transcripts in which he admits to have spoken with Balakhnichev – also a former IAAF treasurer – about needing the money.
The transcript reported by Le Monde said:
"I told him that to win the elections, I needed about €1.5mn ($1.63). He said to me: 'We'll try to find it, no problem.'
"At that time there was these problems of suspending Russian athletes a few months ahead of the world championships in Russia. We came to an agreement. Russia paid. Balakhnichev organised all of that."
READ MORE: Russia battling to make it to Rio Olympics as doping reforms introduced
The conversation allegedly took place in 2011 and the elections referred to are the 2012 elections in Senegal where the opposition defeated the incumbent president Abdoulaye Wade.
Police say Diack is suspected of accepting bribes to cover up positive drug tests by Russian athletes and is suspected of pocketing over $1m personally.
Balakhnichev has denied the conversation to Le Monde, and in Senegal, President Macky Sall's Alliance for the Republic party has denied that it received funding from Diack for his 2012 campaign.
"Lamine Diack had not financed the campaign of the candidate Macky Sall in 2012, either directly or indirectly," party spokesman Seydou Gueye said in a statement.
On Friday, the IAAF ethics commission concluded a three-day hearing about Diack's son Papa Massata Diack, Balakhnichev, the former IAAF anti-doping director Gabriel Dolle and the Russian federation's former chief coach for long-distance athletes, Alexey Melnikov. All four are charged with covering up doping offenses and could face lifetime bans with a decision expected in early January.
The charges involve Russian marathon runner Shobukhova, who turned whistleblower for the World Anti-Doping Agency (WADA) earlier this year.
According to testimony given by Shobukhova, she paid around $600,000 for violations to be covered up in order to avoid suspension.
The IAAF banned Russia from the international competition in November after a report by the World Anti-Doping Agency (WADA) indicated systematic and widespread doping in Russian athletics. The WADA independent commission, headed by Dick Pound, is due to release the second part of his findings on January 14.
January is shaping up to be an important month for Russian athletics, with the IAAF commission tasked to oversee the reform of the All-Russia Athletics Federation (ARAF) due to visit Russia on January 10 to review the first steps taken in reforming ARAF and the Russian Anti-Doping Agency (RUSADA).
You can share this story on social media: