LeBron James hospitalizes wife of world No 2 golfer Jason Day (VIDEO)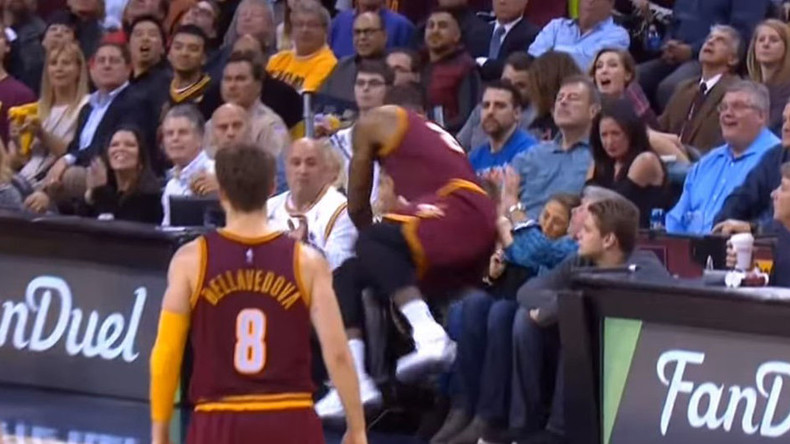 In the fourth quarter of the Cavaliers versus Thunder game on Thursday night, LeBron James crashed into the front row seats while chasing a loose ball, injuring Ellie Day, wife of star PGA Tour golfer Jason Day.
James, who is 6 feet 8 inches tall and weighs 250 pounds, smashed into Day, knocking her backwards and landing on her as he fell out of bounds with five minutes left in the fourth quarter.
The game restarted while Day received court-side treatment, and when Cleveland called a timeout with just over three minutes left, James returned to check on Day.
Day was taken from the arena in a stretcher with her neck in a brace. She was alert and talking to medical staff as her husband accompanied her to an ambulance before she was transported to a local hospital. She was released on Friday morning.
"It wasn't anything out of the usual besides the injury," James said. "But to me, obviously her health is very important, and hopefully she's doing well. The guys told us she's doing great now. So, but you know, I was going for a loose ball. Just trying to keep the possession going, and I hate that that was the end result of it."
Ellie Day I hope you're doing okay! My apologies! Hope u guys come back to another game soon. Love LJ!

— LeBron James (@KingJames) December 18, 2015
Jason Day, 28, won the 2015 PGA Championship in August, and has recently attended several Cleveland Cavalier games. He had also taken part in a promotional event with the crowd during a timeout shortly before the incident took place.
The Cleveland Cavaliers won the game 104-100, breaking Oklahoma Thunder's six-game winning streak, with James picking up 33 points, 11 assists and 9 rebounds.