'I love you baby!' Irish fan serenades UFC Holly Holm (VIDEO)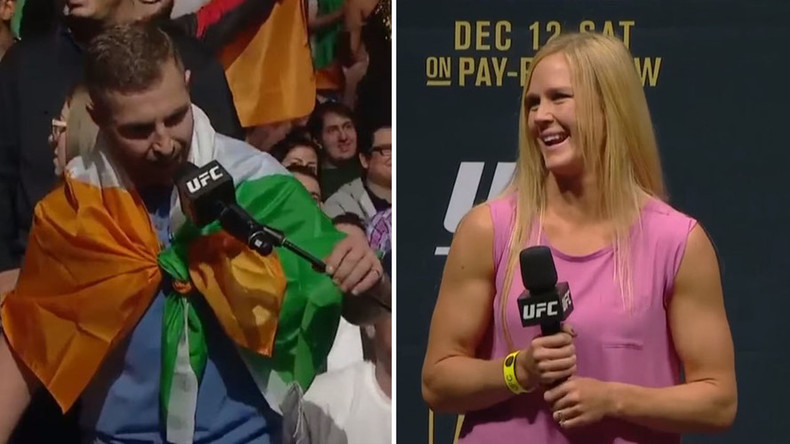 UFC fighter Holly Holm was a lucky gal last night when an enthusiastic fan knocked her off her feet not with kicks and punches, but with a very public rendition of 'Can't take my eyes off you'.
The current UFC Bantamweight Champion was in Las Vegas for a Q&A when a traveling Irish fan took to the microphone inside the packed MGM Grand Garden Arena. Instead of asking a question he simply told the fighter "You're just too good to be true" before launching into a full rendition of the song.
The lively crowd soon joined in for a very fun moment in the otherwise tense and dangerous sport.
Last month, Holly Holm defeated former UFC Bantamweight Champion Ronda Rousey. It was Rousey's first ever loss and considered a major upset in the sport.
The as of yet unidentified fan was in Las Vegas for Conor McGregor's featherweight title fight against Jose Aldo on December 12. The Irish fighter is hoping to defeat Aldo after an injury prevented the Brazilian competing in July.
Both fighters weighed in after Holm's Q&A, with the UFC president keeping the bitter rivals separate.
Las Vegas has seen an influx of Irish fans ahead of the fight, with even the weigh-in packed to capacity.
In July, an estimated 10,000 Irish fans made the trip to Las Vegas to see McGregor fight, with similar numbers expected this week. Thirty percent of the 16,000 tickets for the fight were purchased from Ireland.