Russian duo clean up at the IWF World Weightlifting Championships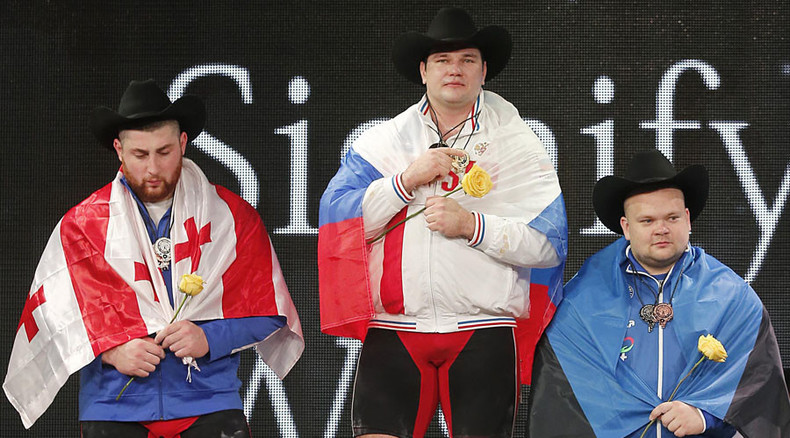 Aleksei Lovchev secured the title of 'the strongest man in the world' with a stunning world-record victory in the men's +105kg category at the IWF World Weightlifting Championships in Houston, Texas.
Lovchev had never lifted more than 257 kilograms in training, and needed 7 kilos more to beat Iranian Hossein Rezazadeh's clean & jerk and total world records, which had stood for 11 and 15 years respectively.
"I was thinking 'This is impossible,' as I had never tried that weight before – I'm overwhelmed," said Lovchev.
"This shows that Russia is the strongest nation. I could never have done it without the support of my parents. My father is my coach and he introduced me to weightlifting. My mother passed away in 2012 and I dedicate this victory and the records to her.
"When I was little I used to watch Rezazadeh on television, lifting enormous weights. He was an example to me and I never imagined I would one day take his records."
Lovchev won the snatch with 211 kilograms to Georgia's Lasha Talakhadze's 207 kilograms and Armenian Gor Minasyan's 203 kilograms.
His winning lift was just 3 kilos short of Behdad Salimikordasiabi's world record mark. The Olympic champion missed the competition with a knee injury.
"I wish him well, a good recovery, and I look forward to competing against him again," said Lovchev. "If he had been here the snatch results might have been a bit different."
Lovchev's Russian teammate, Ruslan Albegov, was also absent, but he is expected to compete at the President's Cup in Grozny next month.
Tatiana Kashirina made it a double Russian celebration
Tatiana Kashirina made it a double Russian celebration as she won the women's +75 kg world title for the third year in a row.
The final event of the championships – the women's +75 kg – saw Kashirina starting when all the other competitors had almost finished in the snatch.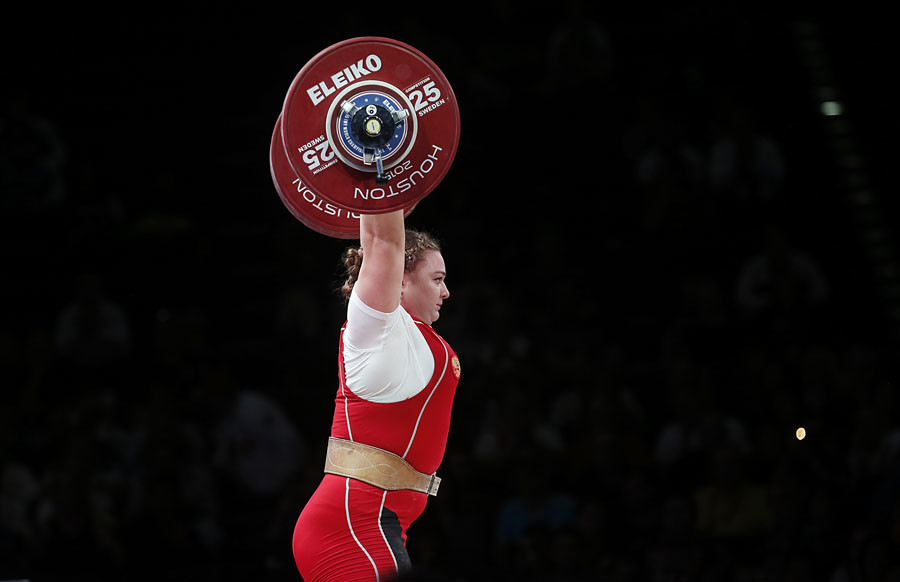 China's Meng Suping had one lift remaining when Kashirina came in at 143 kilograms. She finished on 148 kilograms, pushing Meng and Thailand's Chitchanok Pulsabsakul down into second and third.
Kashirina made only one clean & jerk attempt, at 185 kilograms – eight short of her own record – but it was enough for a clean sweep of golds.
Her 333-kilogram total left her 8 kilos clear of Meng again. PR Korea's Kim Kuk Hyang finished third.
"I don't know what happened, I just didn't feel comfortable tonight and I'm a bit ashamed that I didn't at least go for the record," she said.
"But as long as I'm young and strong and healthy I will keep doing my best. Let's see what happens in Rio."