Even epic hiccups can't stop this kid from singing Aussie anthem (VIDEO)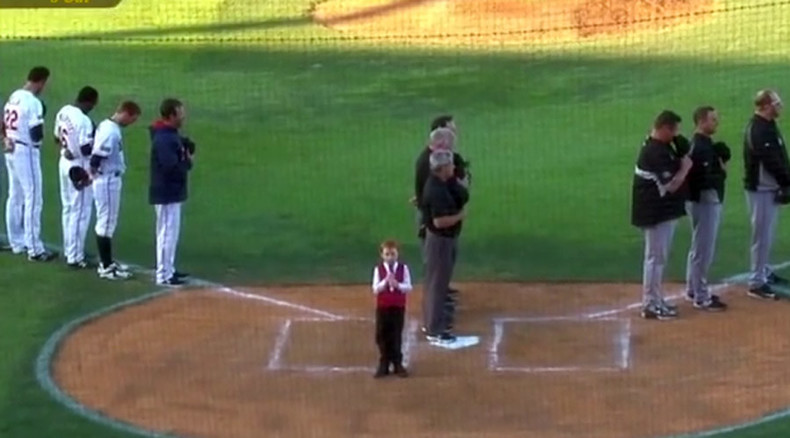 Seven-year-old Ethan Hall literally encountered a hiccup in his plan to sing the Australian national anthem before a baseball game this weekend.
The Adelaide local started singing Advance Australia Fair even though he had an epic case of the hiccups.
Ethan's mother, Kylie, said her son has been taking singing lessons for two years and has never had any issues performing in the past.
The hiccups hit just before Ethan was due to sing, but his mother still urged him to continue.
"I just kept trying to encourage him to keep going and to do his best. I thought he did an amazing job," Kylie Hall told news.com.au.
The unlucky kid's suffering got a few laughs from the players, but Ethan kept his game face on and sang his little heart out.
The crowd gave Ethan a well-deserved cheer when he got to the end of his rendition.
"I got so many high fives from everyone ... they clapped and clapped, and clapped and clapped," he told The Advertiser.
Commentators at the game praised Ethan's performance: "What a lot of courage from the youngster, he could have completely fallen apart."
In the end, the Adelaide Bite defeated the Brisbane Bandits - and more importantly, Ethan's hiccups stopped.
Plenty of adults have experienced trouble while singing pre-game anthems. Argentinian tenor Marcelo Zelada forgot the words at this rugby game.
Former US presidential candidate and comedienne Roseanne Barr famously failed at her attempt to sing the national anthem before a 1990 San Diego Padres baseball game.
And Dominican singer Kat DeLuna messed up in front of Texas football fans before a 2008 Dallas Cowboys game.