Moscow accuses EU of human rights violations over Nazi rallies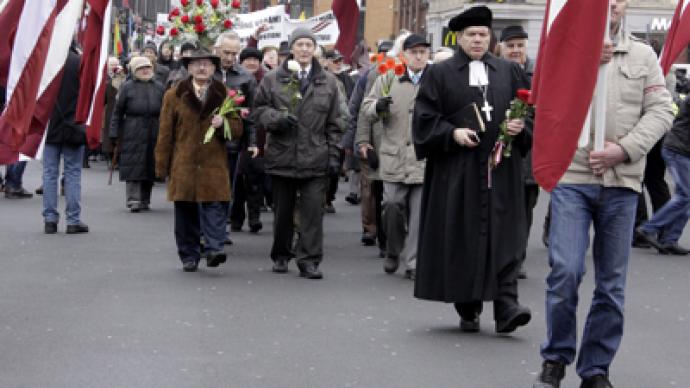 Waffen-SS veterans' meetings and marches, which are annually held in Latvia and Estonia, is a violation of human rights and international law, says the Russian Foreign Ministry.
The Nuremberg Trials held after the WWII condemned the Waffen-SS as a criminal organization. The decisions of the tribunal are still in place and are "part of the international legal system," stated Konstantin Dolgov, the Ministry's Special Representative for Human Rights. That means that the gatherings of the Nazi military veterans is a breach of the law he said while presenting a report on human rights violations in the European Union. In Estonia the annual parades are held in honor of veterans from the 20th Estonian SS Division – which fought in the war for the Nazi side – and their supporters. Similar events are organized in neighboring Latvia, where ex-members of the local Waffen-SS Legion annually gather in the capital Riga to commemorate the group's founding in 1943. On March 16, 1944, they engaged in combat against the Red Army.Nationalist and neo-Nazi movements have been gaining popularity in some former Soviet republics since the collapse of the USSR in 1991. The reason behind that is that many in the Baltic States and Western Ukraine consider the Soviet era even worse than the Nazi occupation. Russia has repeatedly criticized attempts to re-write history, glorify Nazism and rehabilitate Nazi crimes.
You can share this story on social media: