2012: Medvedev and Putin to address United Russia convention
Published time: 20 Sep, 2011 13:14
Edited time: 20 Sep, 2011 17:30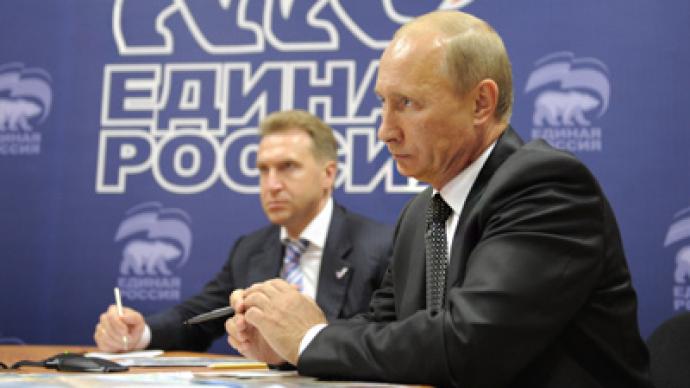 President Medvedev and Prime Minister Putin will both address the United Russia pre-elections convention on Saturday. According to media, the convention may see the announcement of United Russia's candidate for the presidency.
Putin will address the United Russia convention as the party leader, but President Medvedev, who is not officially a member of United Russia, is also invited. The congress will be held at Moscow's largest stadium Luzhniki, and Putin and Medvedev will deliver their addresses on its second day, the head of United Russia's Central Executive Committee Andrey Vorobyov told the press on Tuesday.
The Secretary of United Russia's General Council Presidium, Sergey Neverov, said that it is a tradition for Medvedev to attend the congresses to demonstrate his support. "We meet him and we always consult with him. Naturally, we expect to hear about certain directions for joint work," Neverov said.
United Russia was the main political force in the coalition of parties that proposed Medvedev's candidacy at the last presidential elections. However, the Russian president is not officially a United Russia member.
"We are partners who share common ideas," Vorobyov said. The official also said that he hoped that Medvedev's address will be interesting and substantial.
The United Russia officials avoided the traditional question if they know anything about Putin's or Medvedev's plans for the presidential poll. "The convention will be dealing with the State Duma elections list," Neverov said but added that the details will not be disclosed before Saturday.
Neverov also said that United Russia could include President Medvedev in their election list if the president expresses the intention to run.
Some media reports also suggested that the United Russia convention would vote for changes in the party leadership. In particular, the Gazeta.ru internet daily said that United Russia planned to abandon the co-chairmen posts, now occupied by political heavyweights who were among United Russia founders – Emergencies Minister Sergey Shoigu and former president of the internal republic of Tatarstan Mintimer Shaimiyev. The daily also suggested that other top party officials could lose their posts, mostly the incumbent and former governors who will be replaced by more energetic and young people.
United Russia, however, refuted these rumors. Deputy secretary of the general council presidium Yuri Shuvalov said that his party planned no reorganization and no changes to the charter.