Putin promises to lose weight, ride a tandem bicycle with Medvedev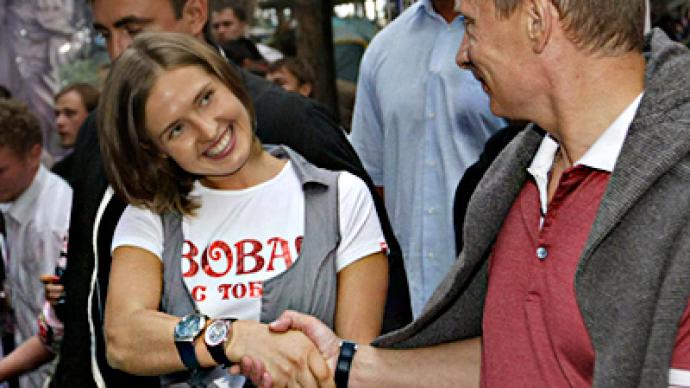 Russian Prime Minister Vladimir Putin told young people at the Seliger-2011 forum that he would try riding a tandem bicycle together with President Dmitry Medvedev.
The prime minister's statement came at a youth educational forum which is held annually on the Seliger Lake in the Tver Region, 370 kilometers away from Moscow. The forum is organized by the Federal Agency for Youth Affairs.Upon arriving at the camp, the premier first stopped by a stand called "Vladimir Putin and a healthy life style." Somewhere around a hundred youths who were struggling with issues related to obesity were there to greet the prime minister.  In the camp, children and teenagers are taught the values of good nutrition, exercise, and healthy living.Putin praised the efforts of one of the forum's participants who has managed to lose 37 kg over the past year. The premier went on to join the young people on a big scale, where they weighed in at a whopping 6,300 kg. After the youngsters said they would all lose a ton over the next year, Putin blithely promised to lose "half a kilogram" as well.
Riding in tandem
During a later stop on the camp grounds, Putin was shown a tandem bicycle, whereby he was told it was not too easy to ride as harmonious team work was needed. "We'll come together with Dmitry Anatolyevich [Medvedev] and try it," the premier joked.Later Putin was asked if he would run for president, though he was not forthcoming with a clear answer. "As for the future, it is not far off," he said. "After some time, we will take your advice on what to do next."   At the same time, Putin said that "the much talked-about tandem" of the president and the prime minister "has become a very effective instrument." The premier added that he shared a lot of common ground with Medvedev "on many principal issues regarding the country's development, as well as on international problems." But he noted that they are different people, of course, and may have different "personal tastes." "What's important is that we've developed such a working style that we can take each other into consideration and make balanced decisions," Putin noted.The participants of the camp demonstrated their various ideas and inventions to the prime minister, including a variation for traffic lights signaling. The premier called Viktor Kiryanov, the deputy interior minister, and asked him to consider the proposals.As Putin passed by a climbing wall, he stood back and watched for a while as an athlete scaled it, only to take a crack at it himself, making it almost half way up without the benefit of a safety harness.  Putin also met the proposals of representatives from the youth movement which monitored the sanitary conditions in food stores, making sure none of the foodstuffs had past their expiry dates, with enthusiasm. They proposed that best-before dates should be shown clearly in large print. "Let's do it, it is not difficult," the prime minister said, adding he would ask his first deputy Viktor Zubkov to look into the problem.During a meeting with participants of the forum who showed him films they had edited and directed themselves, Putin said he would be ready to take part in a short documentary about the prime minister one day.After the premier was shown a film about hooligans on the road and the activists who struggle against them, he advised the young people in attendance to be vigilant, even about minor offenses. "If we don't give any violations a free pass, then discipline will be better and safety will improve." This year's Seliger educational forum has had nine thematic vicissitudes, including Innovations and Technical Creativity, Entrepreneurship, Journalism, Politics, Volunteerism, a fitness session called "Run after Me," and another that focused on international issues.As some on the internet describe Seliger as a pro-Kremlin youth camp, Putin proposed that those bloggers should be invited to the forum so they could see for themselves. It is good when people criticize something, but they should know "what is really going on," Putin said.
US parasite at global table
Speaking with the participants on issues of economic importance, the premier accused the United States of living beyond its means "like a parasite" on the global economy, adding that dollar dominance was a threat to financial markets.He said the Russian ruble will only continue to strengthen as a regional currency. This process will be stepped up as the unified economic space of Russia, Belarus and Kazakhstan, which will come into effect by the beginning of next year.
Unification a matter of choice
Putin maintained that the unification of Russia and Belarus is possible and desirable, but it fully depends on the will of the Belarusian people. If they desire this, they should fight for it, he said at the youth forum.The Russian premier admitted that there were differing views in Belarus on the matter, but stressed that calls in favor of integration should be heeded. Despite difficulties that may exist in the economic area between the two countries, the Belarusian leadership and President Aleksandr Lukashenko "have consistently followed the path of integration with Russia," Putin noted. Speaking about the relations with South Ossetia, the premier made it clear that the people of the former Georgian republic will decide whether they will join Russia one day. Russia supported South Ossetia when the Georgian leadership launched their military operation, Putin said, referring to the August 2008 war in which Georgia initiated a military offensive against the small republic.The prime minister also described a totalitarian form of government as a dead end and ineffective, stressing that Russia will never return to it. Totalitarianism kills freedom and the creative activities of a man, he said, while answering a question at Seliger."As a result, the economic, social, and political areas of life become ineffective, and such a state is doomed," he stressed.
You can share this story on social media: