Russians want political opposition – poll
Published time: 29 Oct, 2009 14:37
Edited time: 5 Nov, 2009 15:18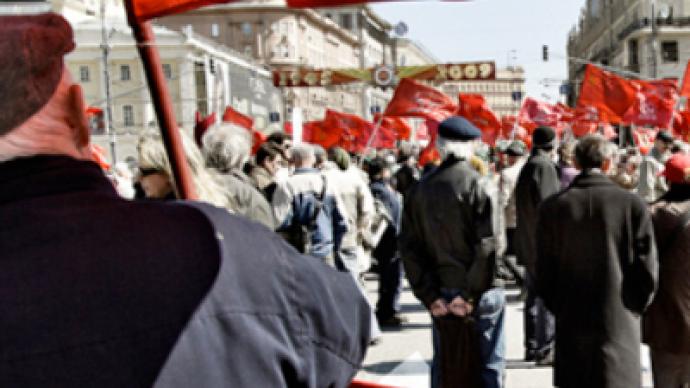 Seven people out of ten favor the existence of strong political opposition parties and NGOs in Russia, a new poll shows. The number has been growing over years.
In 2002 the idea was supported by 56% of the population, while in October 2009 the number reached 71%, says the Levada Center polling agency. The number of both opponents to opposition and those who could not make up their mind has decreased over this period of time, dropping to 16% and 13% respectively.
The survey also revealed the attitude Russians have to various political parties today.
The favorite in both popularity and lack of disapproval is the United Russia Party, which currently enjoys a majority of seats in the Russian Parliament. Almost 60% of the people surveyed said they viewed it in a positive way, while only 12% voiced a negative attitude.
The Communist Party is the second best in terms of approval with 34% of the vote, but it has a strong opposition, since 21% of respondents said they disapproved of it. This more than Fair Russia's 15%, but less than the Liberal Democrat's 28% negative votes. Both these parties seem to have difficulties with reaching voters, since 40% and 44% of respondents said they neither liked nor disliked the LDPR and Fair Russia respectively.
The fourth political party with seats in the parliament is the Right Cause party, a newcomer in Russia's political life. The public is seemingly not familiar with their work, since 18% of the people surveyed said they never heard about this party, and another 37% said their attitude was neutral – more than the number of supporters and opponents combined. Another 17% failed to express their opinion about the party.
The ever-lasting liberal party Yabloko, which went through internal struggle and lost most of its public support in recent years, is known well in Russia, but has a predictably low approval rating. Only 8% of respondents expressed a positive attitude towards it. The 41% majority said they neither liked nor disliked Yabloko.
Opposition party Solidarity remains mostly unknown to Russians. Only 5% of them said they liked the party and 16% dislike it. The overwhelming majority of the people stated their neutrality to it (32%), have never heard about it (28%), or failed to judge their work at all (19%).
The survey was made in mid October 2009, with 1,600 adult Russians polled. The Levada Center does not specify which residents of what regions in Russia were questioned. The statistical margin of error is no more than 3.4%.