Former Russian defense minister faces criminal negligence charges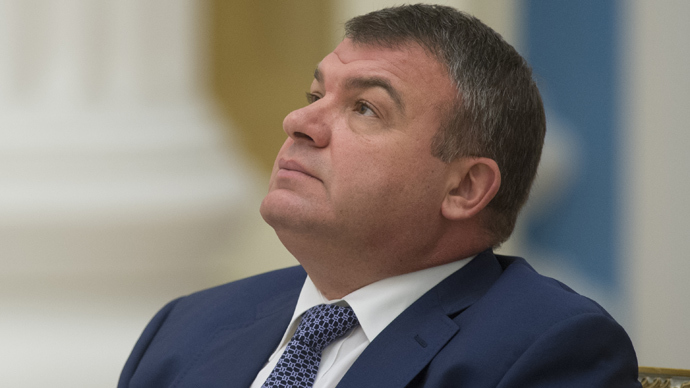 Anatoly Serdyukov, the ex-Russian defense minister who lost his post after investigators uncovered alleged multi-million-dollar corruption schemes within his agency, is now facing a criminal probe over 56 million rubles of allegedly wasted funds.
The Investigative Committee - which specializes in highly resonant crimes - reported on Thursday that the former official is accused of criminal negligence. This is punishable by up to one year of community service or detention of up to three months.
According to investigators, when Serdyukov worked as defense minister (2007-2013) he gave his subordinates verbal instructions to build a road to a country resort in South Russia's Astrakhan Region. The cost amounted to 56 million rubles (about $1.7 million), committee spokesman Anatoly Markin told reporters. He also added that the charges against Serdyukov could be changed in the course of the probe.
"Instead of military service and studies the servicemen were planting trees on the Astrakhan steppe and building railroads and roads. As a result they have built a road that can only be used by owners and residents of the private property site Zhitnoye," Markin said.

A day later Markin told Lifenews television that charges against Serdyukov will be pressed within 10 days after the criminal case was started. He again noted that the charges could be different from the one mentioned in the original criminal case.
The Zhitnoye resort once belonged to the Defense Ministry, but was sold to non-commercial partnership owned by Serdyukov's brother-in-law Valery Puzikov and his business partner Artur Pozov.
Earlier the committee launched an investigation into the privatization of Zhitnoye, suspecting the involved officials of graft, however Serdyukov was only mentioned in it as a witness. In September this year, the two owners of the partnership decided to return the property to the Defense Ministry, but the case remained open and the term of the investigation was officially prolonged.
Markin also revealed that his agency planned to question Serdyukov early next week, adding that the ex-minister will be brought to questioning by force if he tries to evade it with fictional excuses.
Serdyukov's lawyers initially claimed they had not received any official messages about the case, later telling the press their client was a law-abiding citizen who had no intention of pleading guilty to the mentioned charges.
Anatoly Serdyukov was appointed defense minister in 2007 and charged with the overseeing deep and all-encompassing reforms aimed at making the military more efficient. Before this appointment he headed the Federal Tax Service and immediately met with opposition from senior generals, who accused him of incompetence over military issues. The reforms continued nevertheless.
In October 2012, the Investigative Committee began criminal cases against senior managers of JSC Oboronservis – the property-managing branch of the Defense Ministry - accusing them of selling state property to friendly commercial structures at artificially lowered prices.
According to law enforcers, the estimated damage to the budget amounted to 3 billion rubles (about $100 million). The head of Oboronservis, Evgeniya Vasilyeva, was Serdyukov's protégé and personal friend. When she was put under house arrest she stayed in her luxury apartment in the same complex where the ex-minister lives.
Serdyukov himself was not charged in the Oboronservis case, but only questioned as a witness. Nevertheless, in November 2012 President Vladimir Putin fired him, replacing him with then-Emergencies Minister Sergey Shoigu.
Just this month, Serdyukov was appointed general director of the Federal Research and Testing Center for Machine-Building – a structure belonging to the state-owned hi-tech corporation Rostec.
You can share this story on social media: