Former defense minister's home searched, aide charged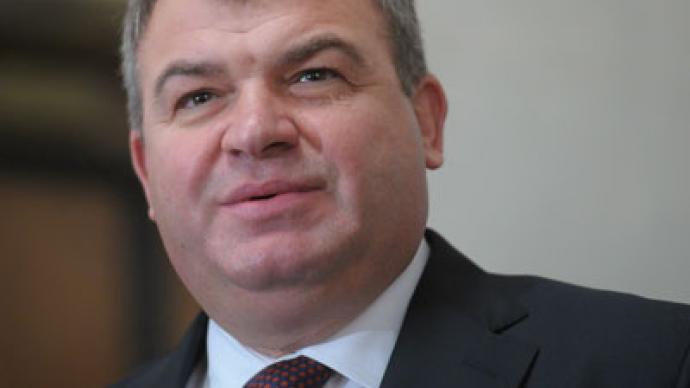 Russia's top investigative agency has conducted a series of searches of the country homes used by top Defense Ministry officials, and officially charged the former defense chief's top aide with large-scale embezzlement.
A total of 18 searches were made in a Moscow Region health resort used as the permanent residence of top Defense Ministry officials, the spokesman for the Investigative Committee, Vladimir Markin, said. These included the home of the former defense minister Anatoliy Serdyukov, the spokesman added. The health resort has been rented by a company called "Security and Communications" founded by a man who is now under criminal investigation over charges of embezzlement, Markin told the press. The spokesman said that the former head of the Property Relations Department Yevgeniya Vasilyeva had been officially charged with large-scale embezzlement and investigators asked the court to put her under house arrest. In the evening the court rejected her plea of release on 15 million rouble bail ($500,000) and ordered her to remain under house arrest.Investigators say Vasilyeva, along with other persons, is involved in the theft of about $12 million worth of property from the Oboronservis company – a real estate firm owned and controlled by the Defense Ministry. If convicted, the former department head could face up to 10 years in prison.
The Oboronservis case is probably the biggest Russian political scandal of recent years as it has already cost Anatoliy Serdykov the Defense Minister's post and led to many more dismissals. The story broke less than a month ago as investigators searched the apartments of Yevgeniya Vasilyeva and several other former defense ministry officials. Serdyukov himself was present during the search (it was later learnt he lives in a neighboring apartment in the same luxury condo with his former aide). A short time later two people were charged with embezzlement and arrested.According to investigators, Oboronservis officials picked the most lucrative real estate on the Defense Ministry's portfolio, pumped additional funds into them and then sold it to friendly companies at prices that were significantly lower than market. According to preliminary estimates, the affair led to a total loss of about 3 billion roubles, or slightly under $100 million. As investigators searched Vasilyeva's apartment they seized more than 3 million roubles in cash (about $100,000), valuable paintings and antiques and also a large quantity of expensive jewelry. From the beginning of the scandal Vasilyeva has been in a private medical clinic where she allegedly was undergoing treatment.Some Russian media suggested that one of the earlier suspects – Vasilyeva's former co-worker and friend Yekaterina Smetanina had entered a plea deal and her testimony allowed for further charges. The Investigative Committee issued no statements on the subject so far. Law enforcers have not issued any hints at the former minister's possible involvement in the fraud, saying only that they could question Serdyukov if they find enough grounds for that.
You can share this story on social media: