Russia's sovereignty over South Kurils irrefutable, Moscow tells US, Japan
Published time: 23 Jun, 2011 10:44
Edited time: 23 Jun, 2011 15:31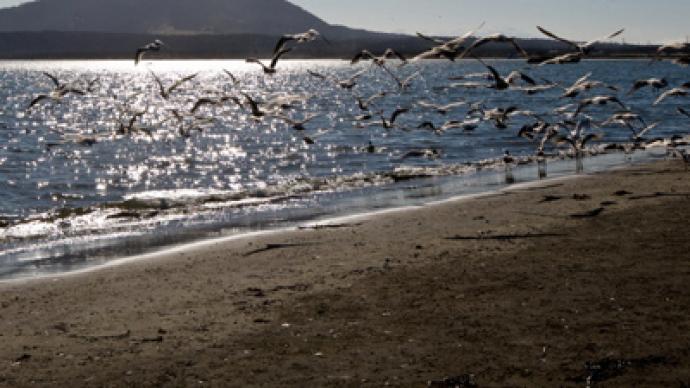 In a response to a joint statement made by the US and Japan, Moscow is calling on Washington not to question the fact that the Southern Kuril Islands belong to Russia.
­"We consider inappropriate a situation in which Russia's sovereignty over the Southern Kuril Islands is questioned one way or another," the Russian Foreign Ministry information and press department said on Thursday.

The comments by the Foreign Ministry came in response to a statement put out by the US and Japan in which they say they are seeking the normalization of Russian-Japanese relations through settling the controversy over the so-called Northern Territories.

The US also pointed out in the statement that Washington considers the Southern Kurils to be Japanese territory.

"The problem of a peace treaty is a bilateral issue between Moscow and Tokyo," the Russian Foreign Ministry said. "Any attempts to interfere do not help create a calm atmosphere for developing dialogue on this complicated and sensitive subject,"

The statement was drafted in the course of a security meeting between Japanese and US officials in Washington. The participants included US Secretary of State Hillary Rodham Clinton, US Secretary of Defense Robert Gates, Japanese Minister of Foreign Affairs Takeaki Matsumoto and Japanese Minister of National Defense Toshimi Kitazawa. 
In November, Dmitry Medvedev became the first Russian president to visit the disputed Kuril Islands.  Having met with local residents in Kunashir, the second-largest of the four islands, he pledged more investment for the region. 
The visit sparked a diplomatic dispute with Tokyo. 
Japanese Prime Minister Naoto Kan called Medvedev's visit "regrettable," and the Russian ambassador was summoned.
In return, Russia called Japan's reaction to the visit "unacceptable". 
Meanwhile, Russian General Staff Chief, General Nikolai Makarov recently confirmed that the construction of two military garrisons will begin in the second half of 2011 and finish next year, adding that military bases on Iturup and Kunashir – the largest of the island group – will accommodate new forces and provisions for the 18th machine gun-artillery division.
"The Defense Ministry's plan for the Kuril Islands has been confirmed," Makarov told Interfax-AVN. "It [the reconstruction] is intended to continue for four to five years."
"Modern barracks, housing, parking lots and arms depots will be constructed in the Southern Kurils," Russia's highest ranking military officer said.
The Southern Kuril Islands – made up of Iturup, Kunashir, Shikotan and Khabomai – lie to the north of Japan's Hokkaido Island and to the south of Russia's Kamchatka peninsula. They are known in Russia as the Southern Kurils, while the Japanese refer to them as the Northern Territories.
Meanwhile, the US and Japan also acknowledged in their joint statement that they would miss a 2014 deadline for the relocation of the US Marine Corps Air Station Futenma on Okinawa.
"The force realignment plan aims to reduce the US military footprint on Okinawa, which hosts more than half of the 47,000 US troops in Japan," the Taipei Times reported.