"Kuril Islands are important Russian region"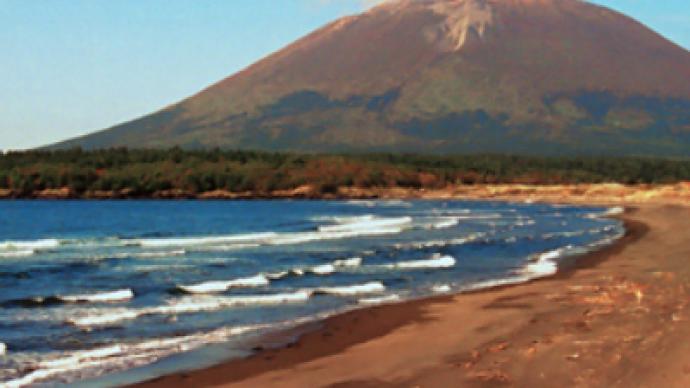 President Dmitry Medvedev will visit the Kuril Islands in the near future despite Japan's warnings that the trip may negatively affect relations.
"I will fly there by all means," Medvedev said, visiting the Russian Far Eastern city of Petropavlovsk-Kamchatsky on Wednesday. He described the Pacific islands as "a very important region in our country."
"Unfortunately, the weather now means we can't fly to the Kurils," Interfax agency quoted him as saying. "But we will do this soon and we will travel there by all means," he noted.
Japan's Prime Minister Naoto Kan said on Tuesday that his country still considers Russia's Southern Kuril islands its own Northern Territories. Tokyo position remains unchanged, he said after Medvedev's plans to visit the Kurils had been announced.
Also on Tuesday, unanimous sources in the Japanese government warned that the Russian president's visit may "negatively affect bilateral relations," Itar-Tass said.
The four islands off the north east coast of Japan were incorporated by the Soviet Union after the Second World War. Moscow and Tokyo have not signed a formal peace treaty since 1945.
Politicians in Tokyo have made several tough statements recently over the territory, questioning the prospects of bilateral relations. The Russian Foreign Ministry in March warned that Japanese territorial claims present a threat to Russia.
In July, Japan wanted Russia to scrap plans for its Vostok-2010 military exercises in the area of the islands, but Russia ignored the demand.
Meanwhile, both countries say they are ready to continue the discussion on the peace treaty. Many Japanese regularly take visa-free trips to the Kurils. Russians living on the islands also visit Japan.
Speaking with foreign political analysts in Yaroslavl on September 10, Medvedev stressed that Moscow would continue to develop relations with Japan, despite the territorial dispute.
Sergey Borisov, RT
You can share this story on social media: