Duma backtracks on Academy of Sciences reform amid protests
Published time: 17 Sep, 2013 10:38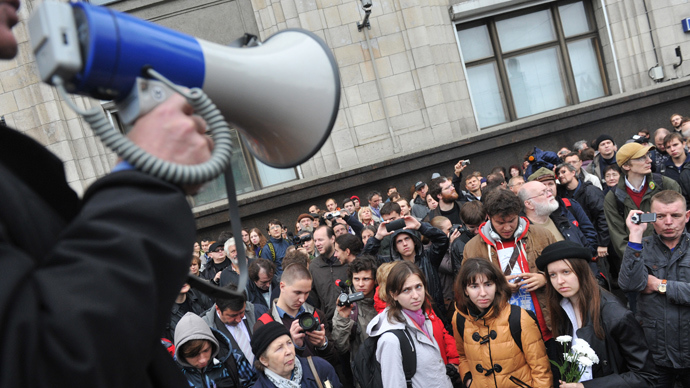 The State Duma has decided to hold another second reading of the controversial bill on radical reform of the Russian Academy of Sciences after the document drew protests in the press, in public statements and in the streets.
On Tuesday morning the lower house unanimously voted to return the bill to the second reading. The deputies agreed that amendments should be submitted to the bill before the end of the day so that the reading could be held as early as Wednesday.
The voting was held as scores of scientists and students were holding a rally near the parliament's headquarters.
MP Oksana Dmitriyeva (Fair Russia) suggested inviting some representatives of the protesters into the conference hall and listening to their arguments, but the chamber voted against this move.
The rally goers held posters demanding to save science and stop the reform. Many of them were carrying two carnations, demonstrating that they were mourning the Russian sciences (traditionally, Russians bring an even number of flowers to graves and funeral wakes).
The rally was not coordinated with Moscow City authorities and the police repeatedly asked the protesters to disperse, however no arrests were made.
"Our main complaints are against the possible transfer of all research institutes under the command of the dedicated governmental agency. This will put an end to the Academy's history of 300 years," said academician Valery Rybakov, who was also taking part in the rally.
The bill on reform of the Russian Academy of Sciences was submitted to the parliament by the government in early July. The main provision of the document is that three major Russian academies should be merged into one with a single managing body, and also that the right to manage the academic budget and property is transferred to a special government agency.
Russian scientists protested against these moves from the very beginning and the president of the Russian Academy of Sciences, Vladimir Fortov, personally asked President Vladimir Putin to postpone the reform. The president refused, saying that it was too late to stop the process, but promised that lawmakers would consider the amendments proposed by the scientific community.
The amended bill provides that the three merging academies would retain their separate governing bodies and that the united academy would still be funded from the budget. The amendment also ordered that the new property managing agency be headed by the academy's president.
Still, the new document provides that the heads of research institutes should be appointed by the property-managing agency and this caused the most protests from scientists, who did not want to report to managers and warned that such attitude could cause irreparable damage to the future of national science.