Political parties sink in the polls
Published time: 9 Aug, 2012 13:32
Edited time: 9 Aug, 2012 17:43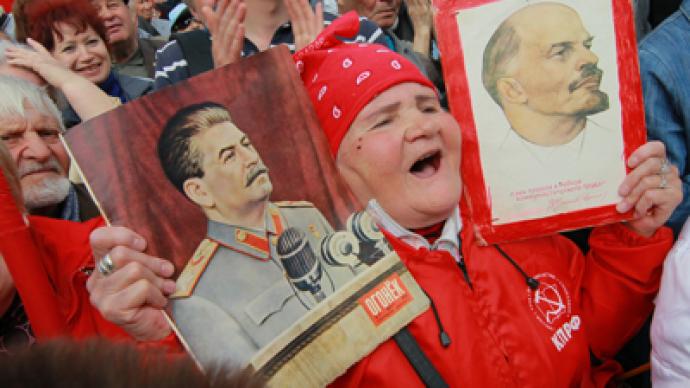 As protest fever in Russia sputters, a recent survey shows an increasing number of Russians are skeptical of political parties, saying they ignore national issues.
­A whopping 59 per cent of respondents accused political parties of "pursuing their own interests" as opposed to fighting on behalf of the people, according to the results of a survey by the Levada Center.
At the same time, average Russians seem to prefer a smaller field of parties from which to select their government officials.
Fifty-one per cent of respondents said that Russia needs two or three large parties, while 22 per cent believe that one national party would get the job done. Not surprisingly, the number of respondents who supported the idea of Russia having a large number of relatively small parties stood at just 12 per cent; 5 per cent said that the country should do away with the entire concept of political parties.
Meanwhile, the survey had little positive to say about public perception of national leaders.
Sixty-nine per cent of those interviewed believe that many government officials have a very poor idea – or no idea at all – as to what ordinary citizens really need; 27 per cent said the government failed to respond to the needs of the people; 31 per cent were supportive of parties, saying the atmosphere of political competition helps to produce decisions that best reflect the will of the people.
The poll numbers may spell tough times ahead for Russia's many fledgling parties, which have just waded into the political waters following the passage of new campaign legislation.
A new law came into force in April that reduces the minimum number of members required for party registration to 500 from 40,000. Some 40 political parties have already been officially registered, while the number of organizing committees seeking to register their parties under the new law is expected to climb to 200.
Eleven per cent of respondents said the establishment of new parties serves to distract voter attention away from those who oppose Russia's majority party, United Russia; 6 per cent believe the creation of more parties works to disperse "the protest electorate;" and 3 per cent said the introduction of more political parties "discredits the idea of democracy and proves that parties are useless."
The survey also took United Russia to task over the claim that it was the "party of crooks and thieves," as suggested by blogger activist, Alexey Navalny.
Forty-seven per cent of respondents disagreed with Navalny's claim; 36 per cent agreed.
The public opinion survey was conducted in 45 Russian regions from July 20 to July 23.