Russia's Border Guard Service: lift visas for Europeans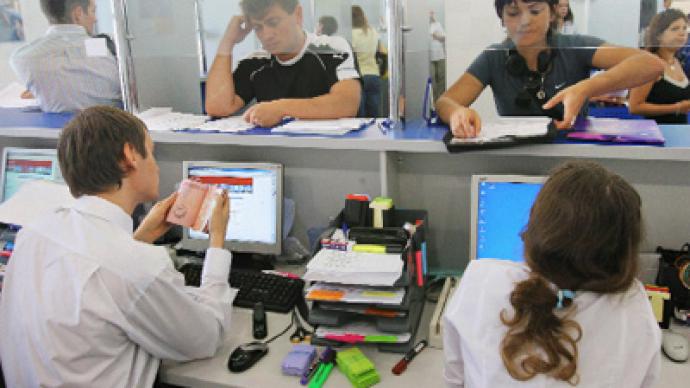 Such a decision may attract more foreigners to Russia and would not threaten the country's security, declared the service's deputy head Col. Gen. Vyacheslav Dorokhin.
The Border Guard Service, a branch of the Federal Security Service (FSB) would not object to lifting visas for EU citizens, Dorokhin said. Statistics for the last three or four years show a significant decline in the number of visitors from Europe, he told reporters on Tuesday. "It is difficult to explain why this is happening. But I think abolishing visas would help boost the number of people who desire to visit our country."    If adopted, a unilateral abolition of visa regulations would not threaten Russia's security, the official stressed. Visas do not make it possible to learn an individual's background and intentions, so it is not helpful in thwarting terrorist threats, he said.At the same time, the possible introduction of visa-free travel would not bring on the installation of simplified checkpoints at the country's borders. "We won't have simplified checkpoints," Interfax quoted Dorokhin as saying. "In any case, an entire set of control procedures will be applied."Border guards are working to bar people linked to terrorist organizations or potentially dangerous individuals from entering Russia. According to Dorokhin, whether they have a visa or not, they would be stopped. Long road to visa-free travel In 2010, one and a half million foreign tourists visited Russia. It has no visa regulations with almost all of the Commonwealth of the Independent States (CIS) and 20 other countries. Moscow is also continuing talks with the European Union on visa-free travel, but they have yet to bring any tangible result.  The proposal to abolish visas for Europeans surprised many in Russia. Some observers believe such a move could really help bring in more foreign tourists. Others think this will deprive Russia of having a leg up in talks with the European Union. And some even think the abolition of visas for foreigners could humiliate Russians who will continue to apply for visas to EU member states. If Russia's leadership supports the Border Guard Service's initiative, it will not be difficult to abolish visa regulations, said Konstantin Kosachev, head of the State Duma's Foreign Affairs Committee. Such a unilateral decision does not require the parliament's approval and would be introduced by a presidential order, he told the online newspaper, Gazeta.ru.But Kosachev himself believes that Russia and the EU should take mutual steps in this direction. If Russia abolishes visas unilaterally, it would complicate talks with the EU and the US because they could lose motivation. Moscow and the EU had earlier agreed to adopt a road map for mutual visa abolition. But Europeans still insist on a number of conditions that Russia must fulfill. Critics of the unilateral visa abolition take Ukraine as an example of a country that abolished visas for EU citizens five years ago. But the EU has yet to take a reciprocal step for Ukrainians. Only in 2010, did European countries agree on a road map for Kiev with a set of conditions to be fulfilled. But supporters of the unilateral decision say the move would at least attract more foreign tourists.
You can share this story on social media: