Visa-free travel could start real Russia-EU integration - Putin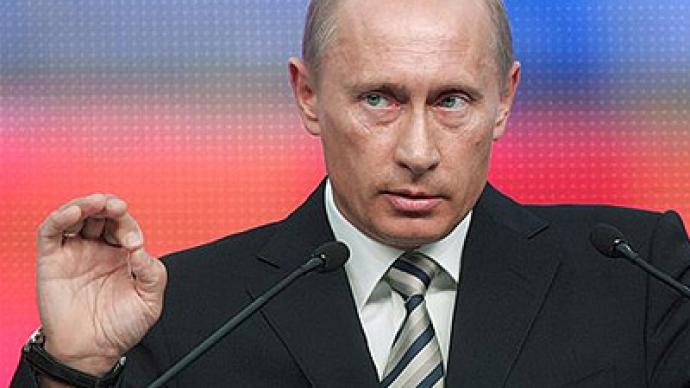 Moscow suggests shaping Europe's future "through the partnership of Russia and the EU," but true partnership is impossible "as long as barriers persist," Russian Prime Minister Vladimir Putin has said.
German newspaper Süddeutsche Zeitung on Thursday published Putin's article "Russia and Europe: From learning the lessons of the crisis to a new partnership agenda." It was timed to coincide with the fourth annual economic forum for heads and top managers of leading German companies organized by the paper. The forum takes place on November 25-26 in Berlin.Shaping the future together would be "our joint attempt at achieving success and competitiveness in the modern world," Putin said."Let's face it, both Russia and the EU have proved quite vulnerable economically, and the crisis showed that clearly. Russia still depends strongly on its raw material exports, and the European Union, after many years of deindustrialization, is facing a real threat of losing its positions on the industrial and high-tech markets. It is obvious that we are lagging behind in certain areas of education and scientific research and development."I should also add that in general, today's level of interaction between Russia and the EU is definitely not up to the challenges we are facing."
Common economic policy
"Changing this situation requires using the tangible advantages and opportunities that both Russia and the EU have," Putin said. "That would be a truly harmonious synergy of two economies: the classic, well-established economy of the EU and the emerging, developing economy of Russia, with growth factors that complement each other."First, we need to establish a harmonious community of economies stretching all the way from Lisbon to Vladivostok. In the future, we may establish a free trade area or even a more advanced form of economic integration. That would essentially result in a common continental market with a capacity measured in trillions of euros."Naturally, that would require removing all obstacles in the way of Russia's accession to the WTO first. Then we would need to standardize our legislation and customs procedures, as well as technical norms and regulations, and eliminate existing bottlenecks in the pan-European transport infrastructure."Second, we need a common industrial policy based on the combination of the technology and resource potentials of Russia and the EU. Also, we need joint programs to support small and medium-sized businesses working in the real sector."Third, there is an urgent need to set up a common European energy complex."Over the past few years, the subject of Russia-EU energy interaction attracted much attention and, frankly speaking, was too politicized. Russia was even accused of plotting to use its oil and gas deliveries to achieve its political goals. That, of course, had nothing to do with reality."The truth is that the collapse of the Soviet Union deprived Russia of direct access to major export markets. We now face the problem of transit countries, which seek to use their monopoly position to achieve unilateral advantages. That was the cause of our recent conflicts."Naturally, this situation ran counter to Russia's national interests and, actually, those of the countries which consume our energy resources. That is why Europe's leading energy companies and the governments of many European countries, including Germany, have supported Russia's plans to build pipelines under the Baltic (Nord Stream) and the Black Sea (South Stream)".
Supporting science and education
"Fourth, without a developed industry, European science and education cannot develop," the prime minister's article reads. "Today, both in the European Union and Russia, fewer and fewer gifted young people seek to get technical education. They see no future for themselves as engineers or skilled workers. They choose other occupations which often require lower qualifications. That is why it may not only be manufacturing plants that move from our continent elsewhere; design bureaus and engineering companies may do the same."European science and education should secure leading positions. And again, the only way for us to achieve that is to develop close partnership."Russia will continue investing in pan-European science projects such as the construction of a roentgen laser in Hamburg or the Darmstadt accelerator."We are ready to open Russian universities and science centers for EU researchers and even to offer grant programs. Furthermore, Russia offers an excellent opportunity to work on unique experimental equipment."
Removing barriers
"Fifth, a true partnership is impossible on this continent as long as barriers persist that hinder personal and business contacts," Putin said."The main one of these is the visa regime between Russia and the EU. We think that allowing visa-free travel would be the beginning, rather than the completion, of real Russia-EU integration."Young people, schoolchildren and college students, will be the first to benefit from the freedom of movement. They will enjoy new opportunities to travel, to get education, and to see the unique cultures of different countries."By abolishing visas, we will also remove a serious obstacle to extending business activities. Currently, visas do not create problems for big business but they have quite an impact on small and medium-size businesses and on innovation companies. In effect, the visa system is artificially perpetuating the existing structure of our economic ties, which is far from perfect."Finally, establishing timeframes and a clear timetable for the abolition of visas will make it possible to intensify cooperation between the law enforcement agencies of our countries. It will help us join our efforts and more effectively fight against illegal migration, drug trafficking, organized crime and terrorism."Let me stress the following. Russia has no interest whatsoever in a weak or divided European Union because that would indirectly diminish Russia's own international influence as well. Our opportunity to rely on a partner with similar and often directly concurring interests would shrink. Closer ties between Russia and the EU cannot be directed against any other party. Neither does it require the weakening of ties with our traditional partners and allies."
You can share this story on social media: