Russia, EU immigration rules should be eased in parallel – Medvedev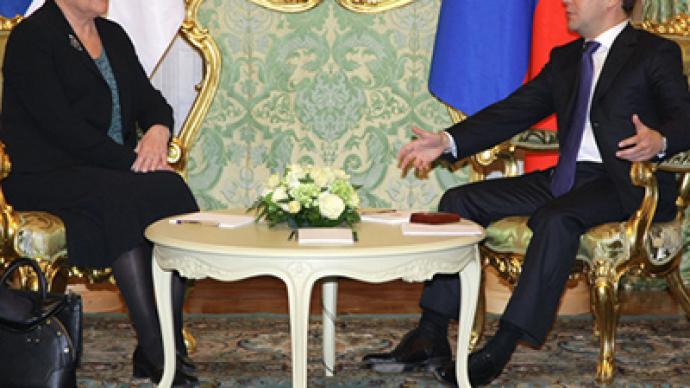 Russia and the European Union should relax immigration rules at the same time, with the climax of the process being visa-free travel, President Dmitry Medvedev has said.
Speaking at a joint media conference with his Finnish counterpart Tarja Halonen, Medvedev said that Russia is interested in making the migrant registration process for foreigners less complicated than it is now. According to Medvedev, it should not be linked to business matters as the country is seeking foreign investors who would contribute to modernizing Russia's economy."We are generally interested in making migrant registration simpler, less bureaucratic and more relaxed for foreigners," he said. The process of easing migration rules should result in the introduction of visa-free travel between Russia and the EU.At the same time, he underlined, these decisions should go "hand in hand with the relevant procedures within the EU". While these two things are not interlinked, "we believe that our movement towards a visa-free regime should go in parallel," Medvedev added.Russia has been in visa talks with its European partners for quite a while now insisting that Introducing visa-free travel would make life easier for many and help develop business ties between Russia and the EU. The idea has been supported by a number of EU members, including France, Italy, Germany and now Finland. However, so far no particular date or even a timeframe has been set for when people will finally be able to travel between Russia and the EU without having to go through the long and costly procedures of getting visas.Tarja Halonen expressed hope that it will not take too long for the decision to be made and specifically underlined that the issue of security should be taken into consideration. A balance between security and flexibility is necessary, she told the media conference."We want to move towards a visa-free regime, but we do not want to create additional queues at the border control," the Finnish president said.
Finland vows to help modernize Russia
Halonen is currently on an official visit to Russia. Following an informal dinner on Monday evening, the two leaders got down to business on Tuesday. Halonen and Medvedev held talks at the Kremlin and discussed a number of issues, including Moscow-Helsinki bilateral relations as well as cooperation between Russia and other international players, including NATO, the EU and the OSCE.Both presidents have agreed that the visit has been fruitful and interesting – "an apotheosis" of relations between the two neighboring states in recent times, as Medvedev described it.Moscow and Helsinki have deep economic ties, with Russia topping the list of Finnish trade partners. And the countries intend to develop their cooperation further.Halonen pointed out that her country welcomes the plan to modernizing the Russian economy –an idea that has become the motto of Medvedev's presidency. She pledged support in making the idea a reality and said that many Finnish companies are willing to take part in innovative projects in Russia.She particularly noted the Skolkovo center – Russia's Silicon Valley – that is currently being built outside the capital. "Of course, we want to take part in this project," she said.
Children's rights problem yet to be addressed
Some tricky issues which cast a shadow over the generally good relations between the states were raised by journalists at the media conference. One of the main deterrents has been the unresolved problem concerning children from Russian-Finnish families. There have been several cases lately when Russian mothers, after splitting with their Finnish spouses, had to fight tough battles for their kids, as in some cases, courts in Finland have awarded custody to the fathers.Commenting on the matter, Halonen said traditionally both in Finland and Russia children stay with their mothers after parents' divorce. However, she noted, "fathers have lately become more active" and want to participate in their offspring's lives. She said that presidents simply cannot consider every single mixed marriage divorce case at their meetings, but assured that authorities are working on the issue."We have agreed to organize a joint Finnish-Russian seminar in March 2011, where officials from social services and justice ministries will be taking part," Halonen said.She recalled that she had previously worked as Minister of Social Affairs and Justice Minister and, judging from that experience, the president said that authorities working on the problem can be trusted and will "be paying very serious attention to these issues". However, Halonen added, it is yet too early to make any forecasts on the results of the discussions.
Natalia Makarova, RT
You can share this story on social media: