Get rid of it or leave: Russian Parliament approves ban on foreign assets for MPs, top officials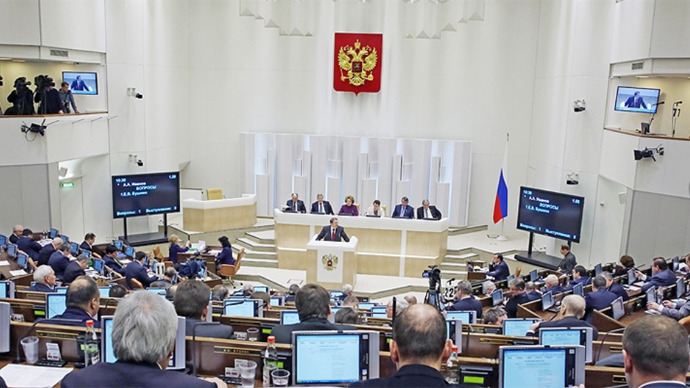 The Russian Parliament's upper house, the Federation Council, has approved the bill that bans state officials, their spouses and underage children from holding bank accounts abroad or owning foreign-issued shares and bonds.
The bill covers all officials that assume state positions including Russian prime minister, deputy prime ministers and ministers, to the state servants like the Prosecutor General and his deputies, the Central Bank board, top regional officials and key executives of state-owned corporations, funds and other organizations that have their managers appointed by the president, the government or the prosecutor general.

According to the Federation Council's speaker Valentina Matvienko about ten Russian senators have accounts abroad.

"But some may choose business rather than work in the Federation Council. According to the information I have, there are two or three such people," Matvienko said Saturday after the Council unanimously supported the bill.

The speaker refused to list those names, just added that "those are quite rich people."

After being amended and submitted by Russia's lower house of parliament, the State Duma, in its second reading last week, the bill now extends the ban to all foreign securities, including travel checks. 
The restrictions spread not only for finance, but any valuables, including precious metals with foreign banks. The Duma draft also bans all foreign assets, including real estate and bonds issued by foreign governments.

At the same time, the bill will allow state officials to have property abroad. However, they will have to declare it and report on how they obtained it lawfully as well as explain the sources of the income used to buy that property.

The bill comes as a part of an anti-corruption crusade. It was put forward by President Vladimir Putin who submitted the bill to the lower house of Parliament in mid-February. Earlier in December, during his annual address to the Federal Assembly, Putin urged members of parliament to support the ban.

After it's signed into law by the President, civil servants will be given three months to get rid of their foreign savings and stocks. Those who fail to do so will lose their jobs.

You can share this story on social media: