Kremlin gives civil servants July deadline to bring foreign assets home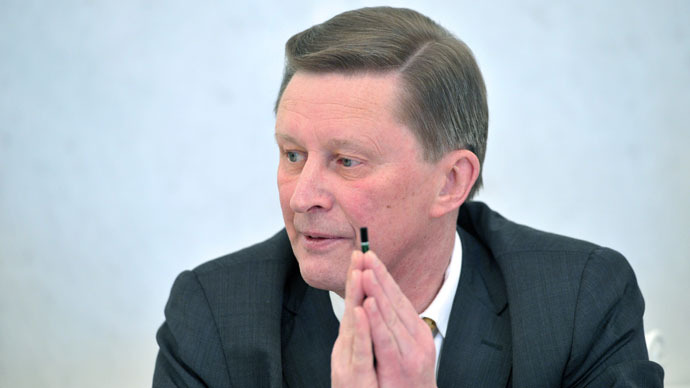 The head of Russia's presidential administration has told the press that all officials, including senior managers of state corporations, must get rid of their foreign accounts and securities by July 1 this year.
"If someone has bank accounts abroad, we give them three months to get rid of them," Sergey Ivanov told reporters on Tuesday at a major media conference dedicated to anti-corruption measures.
Ivanov said that the ban on foreign accounts also concerned top executive of Russian state corporations, such as oil giant Rosneft and natural gas monopoly Gazprom. 
The bill on officials' foreign assets is currently being considered by the lower house and has already passed the first reading. After this, President Putin submitted his own version of the bill and it is expected that the second reading will be held over the amended and much softer version – it is applied to fewer categories of civil servant and is less restrictive.
Most importantly, Putin's bill allows officials for ownership of foreign real estate, banning only securities and bank accounts.
In its current version the ban on foreign assets is applied to the federal and regional government officials and parliamentarians, the Central Bank board and corporate senior managers appointed by the president, the government or the prosecutor general.
Gazprom and Rosneft immediately reacted to Ivanov's interview, saying that neither Gazprom Chairman Aleksey Miller nor Rosneft President Igor Sechin keep their money in foreign banks.
Apart from setting the deadline for dumping foreign assets, Ivanov promised police protection for public servants who report incidences of corruption. He noted that the corresponding law provides for state measures to protect whistleblowers and also to provide them with free legal consultations.
At the same time, Ivanov noted that authorities would not base probes on anonymous reports.
Russia has launched a major anti-corruption campaign after the last parliamentary and presidential polls and it has already yielded some results. Last year President Putin sacked Defense Minister Anatoly Serdyukov over the suspected multi-billion graft schemes and former Agriculture Minister Skrynnik is acting as a witness in a major embezzlement case.
Sergey Ivanov also said in the interview that 322 civil servants were fired after auditors checked 211,000 of 1.3 million submitted income declarations for 2011. Generals from the Emergencies Ministry were among those fired.
The issue of foreign property has also caused several scandals in the parliament and several MPs lost their seats. However, the offense was not mere ownership of foreign apartments and businesses, but a failure to mention them in their property declarations submitted before the parliamentary elections.
You can share this story on social media: