Lower House considers automatic ousting of MPs for failure to declare all property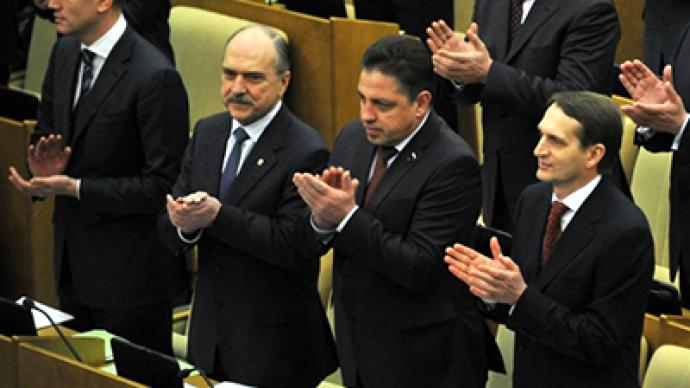 Following a string of scandals over Duma deputies' property and businesses one lawmaker is suggesting of sacking MPS if they cheat on their property declarations.
Sergey Ivanov of the Liberal Democratic Party has submitted a draft bill to the Lower House that says providing false or incomplete information on income and property declarations becomes grounds for early termination of parliamentarians in both of the lower and upper houses. Ivanov told the press that despite since 2010 the law already obliges parliamentarians to report the property and income of themselves and their family members, there is no punishment for failing to do so. The current amendments prompt legal action in cases when the real disclosed assets' size or annual income exceeds the declared ones by ten percent or more. The legislative move is prompted by a string of scandals in which several MPs have already lost their seats. Last year deputies from the majority United Russia and the leftist opposition Fair Russia had to leave the Lower House over running businesses while officially pursuing a political career – which is against the law in Russia. In the latest development a popular anti-corruption blogger Aleksey Navalny accused United Russia MP Vladimir Pekhtin of owning real estate in Florida, USA and failing to declare it. Pekhtin said in press comments that the property belonged to his son who currently lives and works in the United States and asked the State Duma to suspend his powers as the head of the ethic commission and launch an investigation into the internet allegations. The Russian parliament is currently considering a bill that bans leading Russian officials including members of parliament from owning property abroad. The initiative drafted by the Lower House covers real estate, bank accounts and securities and if it comes into force officials would have to divest them within one year or leave their posts. However, last week President Putin drafted his own, softer version of the bill that bans only foreign bank accounts and demands simple declaration of other foreign assets.MP Zheleznyak said in press comments last week that the Lower House would now rework the foreign property bill so it is in line with Vladimir Putin's initiative. According to the current law MPs powers can be terminated if they are convicted of a criminal offense, for running a business while simultaneously occupying a parliamentary seat, for receiving the citizenship of a foreign country, in case of the dissolution of the State Duma or when the MPs officially leave their parliamentary parties.
You can share this story on social media: