ROAR: "It is impossible to force people not to write Internet forum messages"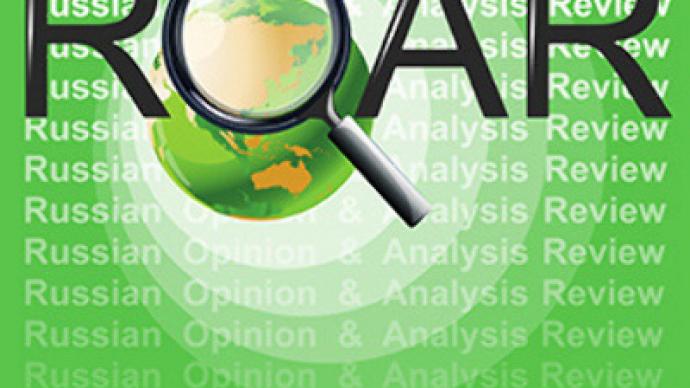 Russia's Supreme Court is expected to issue a decree this week, making Internet mass media responsible for comments that users leave on web sites.
After new restrictions concerning online forums are adopted, Internet mass media will not be able to limit themselves to writing that they may not share views of their readers. The media will have to edit messages or remove some of them.
Many online media outlets already do this, but they mainly limit their moderation to removing taboo words. And until now, Internet resources registered as mass media may have compared comments of their readers on forums to what guests say on air during radio or television broadcasts. According to the law, mass media are not responsible for such statements.
Initially, the Supreme Court planned to confirm that online mass media were not responsible for their readers' views either, the media say. However, Roskomnadzor (Federal Agency for control over Telecom, IT & Mass Communications) considered that this practice may provoke extremist statements on forums.
Now the court's draft decree stresses that comments could be viewed by readers after the moment of publication. So, the editorial staff has to check the reliability of comments if it is requested by someone mentioned in them. If false information was published, the media have to remove the comment or face charges.
The Supreme Court's decree would instruct the court on how to deal with such cases, said Mikhail Fedotov, a secretary of Journalists' Union and the minister of press and information in the 1990s.
Editors of online media will be able to edit texts for publications as their colleagues from print media do, Fedotov noted. "The same approach is used in Germany, in France and in many other countries," he added.
The explanations concern a practical part of the media law and do not represent any amendments, he stressed. Now courts in some regions consider a particular issue the violation of law, while others do not. The court's explanation should remove these differences, he added.
Despite the new restrictions, the Supreme Court has recognized the fact that Internet mass media are not responsible for users' comments published without pre-moderation, Infox.ru website said. However, the court explained what actions the media should undertake if someone considers comments false or insulting, it added.
If, in this case, a media outlet edits such a comment or removes it, the issue is considered to be resolved, Fedotov said. However, if Roskomnadzor's warning is ignored, an individual concerned may defend his or her claims in court. But media may also appeal to court if they do not agree with the Roskomnadzor's decision.
The law on mass media was adopted in 1991, but has seen a lot of amendment since then. Now the working group of the Supreme Court considering the use of the media law by courts has decided that "readers' forums on Internet mass media should not give platform to extremists and should be moderated," Kommersant daily said. But it has not decided what to do with the rest of Internet, "which is not mass media," the paper noted.
The decree that the Supreme Court is preparing is the first one summarizing the practical use of the media law by courts, the daily said. As this decree becomes effective, it will be an official document for all judges in the country, it added.
Its final version may be slightly amended only in what concerns Internet forums, the daily said. Now such forums seem to be beyond registered online newspapers or magazines where they appear, it noted.
Editors will be able to post any comment, but will have to remove it after warnings. But if "real extremists make comments, they may use other websites that are not registered as Internet mass media," Fedotov told Kommersant. The requirements of the Supreme Court's decree do not concern such web sites. Fedotov also compared comments on some Internet forums with writing on fences.
However, starting with "extremist statements," the working group has advanced to proposals that information on forums should "conform to reality," the paper said. Mass media should check the information themselves, if state bodies or "interested individuals" address them. If there is no "conformity," it should be removed.
The problem is that traces of such information are stored in search systems because of "the technical nature of Internet," the paper noted. Thus, claims to search systems could become additional ant-extremist step of "interested sides," it noted.
However, Fedotov believes that the work of search systems or providers will not be affected. "The restrictions in the end concern only forums, not mass media," he noted.
"However, as Russian experience shows, even such restrictions may have political consequences," the daily said. In May, the leadership of the main opposition Communist Party dismissed Vladimir Ulas, head of the Moscow branch, for not taking measures against "left and right opportunism."
Clear manifestations of this opportunism were established when a website of Moscow Communists was checked by party's officials, the paper said. A lot of publications going against the party's program and decisions of its congresses were discovered on the website's forums.
Ironically, on the day of his dismissal "the disgraced communist" Ulas became the most popular person on a social network, Kommersant said.

The new restrictions may make the existence of all Internet forums or mass media impossible, believes Mikhail Genin, an expert in the sphere of information technologies and Internet mass media. Another option is that the restrictions will not work at all, he added.
It is difficult to force online media to control statements of readers because the relevant conditions have not been created in Russia, he told Komsomolskaya Pravda radio. Also, "provocations" are not ruled out either, he said.
"It is also impossible to force people not to write Internet forum messages," the analyst added. And discussions may be transferred to websites that are not under Russian jurisdiction, he noted.
In many Western countries, if law enforcement agencies consider some comments extremist or insulting, media outlets should remove it. "This norm is likely to work in Russia too," the analyst stressed.
But it is impossible to remove anything from the Internet without any trace, Genin said. Any version of an article or statement on a forum remains in search systems, he noted. A lot of steps should be made to work without such traces, which is practically impossible for a particular media outlet, he said.
Sergey Borisov,
Russian Opinion and Analysis Review
You can share this story on social media: