Tipsters to be officially paid by police
Published time: 28 Jun, 2011 07:28
Edited time: 28 Jun, 2011 14:27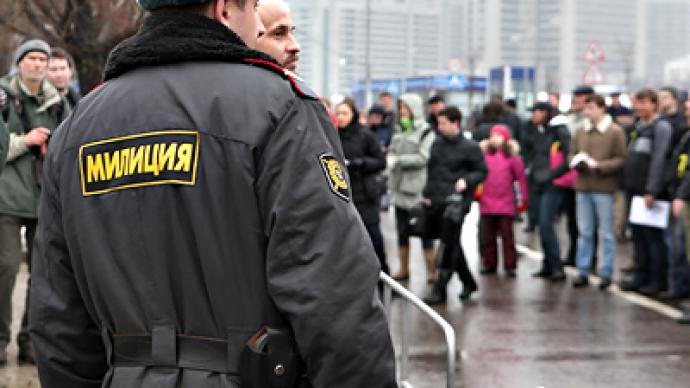 Russia's Interior Ministry has reportedly appealed to the government, asking for 280 million roubles (about $10 million) annually to reward to citizens for important information on crimes and criminals.
Starting from next year, informers will be paid up to 300,000 roubles (over $ 10,000) for their cooperation in helping police find wanted criminals or solve crimes, writes Izvestia daily. While this practice is widely used in Western countries, for Russia it is going to be a novelty – at least on an official level.
The new Law on Police – that came into effect in March of this year – provides for the paying of rewards to citizens. However, only those who provide valuable information which will later be confirmed can get money, Oleg Yelnikov, an official representative from the Internal Ministry, told Interfax. The exact procedure of making such payments will be worked out later, he added.
So far, co-operation between the law enforcement agencies and citizens was mainly limited to police using data they got from undercover agents and so-called stool pigeons. However, it often happens that eyewitnesses' testimony can be a lot more valuable in investigating a crime. The problem is that often such people are not keen on contacting the police and, like the three wise monkeys, prefer to see no evil, hear no evil and speak no evil. Spending time at a police station answering questions, filling in various papers, and sometimes even putting their own security at risk to get a simple "thank you" in response is not a good enough motivation for many.
According to a source in the Internal Ministry's Criminal Investigation Department as cited by Izvestia, rewards will help to get witnesses talking. Previously, the law made no provision for bonuses to informers. In order to avoid the risk of being accused of misuse of public funds, police had to pay rewards unofficially.
The money was normally received either from public organizations and businesses interested in the detention of criminals or from local authorities, a detective told the newspaper. He added though that the majority of high-profile crimes are being solved by the police without any help from citizens and the publicized rewards remain unclaimed.
The Ministry's new initiative has caused mixed reaction among analysts, especially given the level of corruption in the country.
MP Aleksandr Gurov, Lieutenant General of Interior Affairs, noted that the percentage of criminal cases solved with the help of informers is minimal. "Any kind of a reward is a temptation for [a Russian], and one would easily rat on an innocent person just to get money," he believes.
Mikhail Pashkin, who leads a Moscow police trade union, fears that money allocated from the budget for rewards may end up in police officers' pockets.
But not everyone is so skeptical. Vladimir Vasiliev, the head of the State Duma committee on security, is confident that the new initiative will help to solve grave and high-profile criminal cases. In an interview with Echo Moskvy radio station, he said that money for informers had been allocated before, but that was not enough. The legislator believes that the idea to provide additional funds for rewards will not lead to new corruption cases.