Russia's 2020 economic strategy 'too optimistic'
Published time: 4 Oct, 2011 13:29
Edited time: 4 Oct, 2011 17:29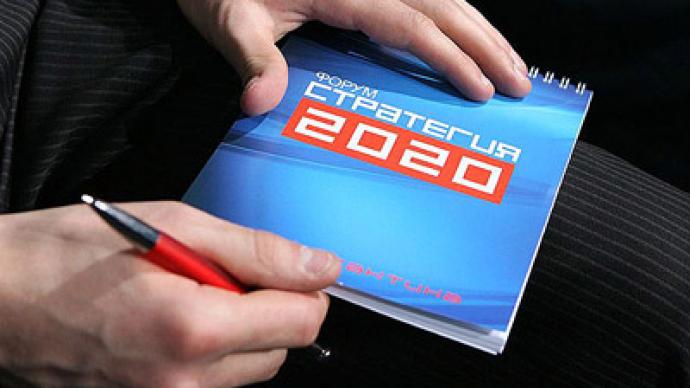 Russia's economic development strategy until 2020, drafted on the orders of Prime Minister Vladimir Putin, does not correspond with modern realities, according to the Audit Chamber.
­Its report says the document fails to take into account the lessons of the 2008-2010 financial crisis, lacks a systematic approach and is "too optimistic," the Vedomosti daily reports.
First and foremost, the auditors criticize the authors of the strategy for not providing specific suggestions as to how to improve the economic system and social policies.
"In fact, Strategy 2020 proposes changes in social policies without any reforms in the real economy sector," the report says.
Experts also note that the suggested mechanism of transfer from state paternalism to social partnership is inconsistent. In this regard, they advise setting short-term and long-term priorities for certain social groups like children or youth.
The Audit Chamber has warned that the record of the past financial crisis should be given more attention. The report says that the risk of a second recession remains high and its consequences could be worse than the first. They call on the government to work out a plan for minimizing these risks. Major threats to Russia's economy are linked to the country's excessive reliance on exports of raw materials and the orientation of those exports mainly to the European market.
As for the external economic strategy, auditors consider it "too optimistic," especially in the light of financial problems in the US and Europe. 
"Today, measures for coming out of crisis should be strategic rather than tactical," they note.
In addition, the Audit Chamber points out that giving up control of the rouble exchange rate, as suggested in the strategy, could result in price inflation on domestic goods.
So the current Strategy-2020 should be reworked, taking into consideration these weak points, experts conclude, otherwise, the document will remain only a theory.
Vladimir Putin ordered the program to be drawn up in January this year. Shortly after, 21 working groups were created, each focusing on a specific field such as macroeconomics, healthcare, investment, etc. 
In August, the 400-page draft document was sent to government experts. In mid-October it will be submitted to Prime Minister Putin for consideration. The final version should be ready by December 1.

Now that Vladimir Putin is to run for the presidency, Strategy 2020 is being regarded as his election program for whose implementation he will be fully responsible if he becomes president.