"A thief should sit in jail" - Vladimir Putin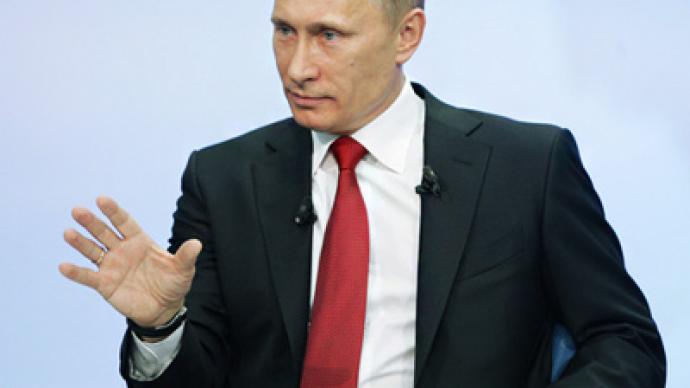 While touching on a number of diverse issues, Prime Minister Vladimir Putin gave special attention to the question of guaranteeing security in the country – for Russians and non-Russians alike.
Coming just days after ethnic riots erupted on the very doorstep of the Kremlin, Putin stressed that Russia must live up to its centuries-old tradition of tolerance and stamp out extremism.

He also provided some candid comments on the trials and tribulations of Mikhail Khodorkovsky, the former Yukos boss who is serving an 8-year prison sentence for tax fraud. 
Ethnic unrest
On Saturday, riots broke out in the center of Moscow when protesters gathered to pay their respects to Egor Sviridov, a Spartak football fan who was killed on Dec. 6. The suspect being held in the killing hails from the Russian Caucuses, a fact that seems to have provided the spark to an ethnic tinderbox that has been steadily growing.
According to city police, over 5,500 people took part in the riots that broke out a stone's throw from the walls of the Kremlin. The protesters chanted nationalist slogans, burned flares and hurled smoke bombs.
Putin vowed to stamp out such examples of extremism.

"Manifestations of extremism must be suppressed from wherever they may come from," the Prime Minister said during Thursday's nationwide Q&A session, which has become an annual media event for the former Russian president.
The Prime Minister reminded his audience, however, that it would be dangerous to paint people from the Caucuses with one broad brush stroke. The country is simply too large and multicultural.
"You cannot spread the same paint on Caucasus natives or people of other ethnicities," he stressed. "Although there is no such ethnicity as a Caucasus native. You cannot spread the same paint on anyone."
Putin told his listeners that it is the government's duty to maintain law and order.
"And it seems to me that our public, including the liberal public, understands that law and order must be maintained.The state exists precisely to protect the interests of the majority." 
He then responded to questions regarding the police response to the riots, which continue to haunt the capital.
"In the course of battling negative trends in the law enforcement agencies, including the police, it is wrong to paint everyone black,"he said, while reminding that "these bodies perform a most important function in the state, and they should not be too heavily criticized for their work."
Putin then used his sardonic wit to chastise Russia's Liberal camp, suggesting that in the event the authorities are no longer able to maintain the peace, it will be their responsibility to protect the people from radical forces.
"Our liberal intelligentsia will have to shave their beards, put on helmets and fight radicals on the square themselves," adding that this would be "the worst-case scenario" for the Russian people.
The Prime Minister then reminded his viewers that historically Russia has been a very tolerant nation, with strong multicultural traditions.
"We have one Fatherland, and one goal. To make people feel comfortable about living together in Russia. We are a multiethnic and multiracial country," he stressed. "Coexistence has been going on for many centuries and we developed a culture of tolerance, and we should remember this."
Thiefs should sit in jail

The line of questioning then turned to the criminal case involving former Yukos head Mikhail Khodorkovsky.
Khodorkovsky is currently serving an eight-year sentence after being convicted of tax fraud. He is awaiting the verdict in a second trial that could extend his term of imprisonment by many more years.
Judging by Putin's remarks, Khodorkovsky's hopes for an early release look exceedingly grim. Alluding to a well-known line spoken by the famous Russia-Soviet actor, Vladimir Vysotsky, in the film "The Place of the Meeting cannot be Changed," (1979), Putin said that 'a thief should sit in jail.'
"Just like Vladimir Vysotsky's famous movie hero, I believe that a thief should sit in jail, and a court found that Khodorkovsky is guilty of a significant large-scale theft," Putin said. "The matter is about tax evasion and fraud, and it involves billions of rubles."
He added that the American Bernie Madoff, who defrauded hundreds of investors of billions of dollars in a so-called Ponzi scheme, has been sentenced to 150 years in prison.

In comparison with such a harsh sentence, Putin said, Khodorkovsky's sentence is "quite liberal."
Putin later stressed that his comments did not imply any pressure on the courts to increase Khodokovsky's sentence.

"The court will consider new episodes in  an unbiased manner.  Yet the  difference in the scale of financial violations is huge. The evasion of 25 billion rubles in  taxes was heard in the  first trial. Now it is the question  of 800-900 billion.

The  court will be very attentive to this," he said.
No more "squads against traitors"
One audience member then asked him about this summer's sensational US-Russian spy scandal and what is being done about defectors.
The Prime Minister assured his listeners that Russia had no special hit squads for dealing with traitors who had served in the Russia special services.
"Russian special services do not use such methods," Putin, who served as a KGB agent during the Soviet era, said. "As for the traitors, they will croak themselves."
When the "spy scandal" story first broke, Putin told reporters, "Traitors always end badly. They finish up as drunks, addicts, on the street."
Putin admitted, however, that such squads did exist in the Soviet era.
"It is no secret that there were special squads in Soviet times and in the Stalin times that, among others, performed missions to liquidate traitors."
Such squads were liquidated long ago, he said.
A right to rally – but lawfully
Finally, Putin addressed the issue of public rallies, and whether or not the previous Moscow administration was right to ban such events.
The Prime Minister said that the individuals who want to hold rallies are usually just looking for a pretext to have a conflict with the authorities.
"The people who organize the rallies…do not need rallies, they need a conflict with the authorities," Putin said. "The very fact [of rallies] is not interesting to them because people immediately lose interest in such events."
Putin then said it did not surprise him when the new Moscow mayor, Sergei Sobyanin, who replaced long-term mayor Yuri Luzhkov, was hit with new demands when he softerned his stance on public rallies.
"For this reason, I was not surprised when the new mayor allowed such events theyincreased their demands and started demanding additional marches, more participants, and the removal of fences. They are looking for a conflict."
At the same time, Putin underlined that "the state will not restrict those who want to state their opinion, including critical and negative opinions on the policies of the authorities. They should only do that within the current legislation."
Saying that he does not follow every specific case, he reiterated that "it is better not to disperse anyone."
Recalling the recent rallies in Moscow, Putin referred to the Constitution, saying that everyone should follow the law.
"The Constitution gives all citizens…the right to demonstrations, rallies, and marches. However, each of us should not violate other people's rights while exercising this right. The local authorities have a right to determine the location of such events, and those who are going to organize them should obey these decisions."
Summary
Although providing a conclusive summary of a 270-minute Q&A session would challenge even the most seasoned analyst, it is possible to make some general comments about Putin's answers.
First, it is clear that Russia's security ranks high for the Prime Minister. From his comments on ethnic tension, to public protests and rallies, to Mikhail Khodorkovsky, law and order remains a top priority.

This corresponds with the thinking of President Dmitry Medvedev, who vowed to bring to justice those responsible for Saturday's violence in the capital.
"Police can and must use all the power and means given to them by law," he said. "Chaos in the streets must not be allowed."
Such comments should not seem excessive, however, and are exactly the stance that other governments would take in similar situations.
Concerning the fate of former Yukos boss, Mikhail Khordokovsky, Putin once again compared such high-profile Russian cases with those in the West in order to paint a picture of the situation that is realistic as opposed to abstract.
By reminding his listeners that Bernie Madoff was sentenced to a 150-year prison term for ripping off investors to the tune of $20 billion dollars, Putin demonstrated the hypocrisy that is so often demonstrated when it comes to the West casting judgment on Russia's own policies.

After all, why can the West lock up white collar criminals without so much as a peep of protest, yet Russia somehow ends up looking like the criminal when it enforces its own laws?
Putin has absolutely no patience for such double standards, and, combined with his occasionally blunt language, provides for political theater at its very best.
Whether you agree with him or not, it cannot be denied that Putin is a crowd pleaser. Indeed, he is one of the few politicians on the world stage capable of holding an audience's rapt attention for hours on end. His profound knowledge of every subject, peppered with his saucy wit, has a way of keeping a person on the edge of their seat, not wanting to miss the next colorful utterance.
If anything else, listening to a four-and-a-half-hour question-and-answer session by Vladimir Putin should make any foreigner want to learn the Russian language just to be able to appreciate such discussions in their original context.